More students than ever coming from afar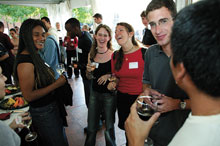 The number of students from the U.S. and abroad attending Concordia continues to grow.
In fact, the total has increased by more than 64 per cent in the past two years, and by more than 200 per cent over six years, to 3,200. That's nearly 10 per cent of the university's total enrolment, a record for a university that has always depended heavily on the local market.
Balbir Sahni has just retired from teaching economics to become full-time director of the Centre for International Academic Co-operation, but he has applied his statistical rigour to assembling a profile of international students enrolled in September at Concordia in each of the past three years.
The results show that international students are up in each of the four faculties and among graduate as well as undergraduate students. In fact, the proportion of graduate students in the newly admitted cohort has increased successively over the three years.
"The outcome pleases everyone," Dr. Sahni exclaimed, "and it's the faculties who have done it."
Where the highest number used to come from France, because of a special low-tuition agreement between Quebec and France, China has taken the lead, with 683 students this fall to France's 429. There are 302 students from the U.S. and 139 from India, between 50 and 100 from Egypt, Jordan, Mexico, Iran and Japan.
Breaking down countries by region shows that Concordia has 1,142 students from Asia, 688 from Europe, 559 from the Americas, 482 from the Middle East, and 257 from Africa.
International students are those who are in Canada on a student visa. In the light of recent political conflict on campus, it is interesting to note that there are only 17 students from Israel and 11 from the Palestinian Authority. The other students from the Middle East are from Lebanon (93), Jordan (80), Iran (61), Egypt (50), about 30 each from Turkey, Bahrain, the United Arab Emirates, Saudi Arabia and Syria, and 11 from other countries.
About 400 out of approximately 870 applicants to study on exchange have been accepted, Sahni said. This means that they are enrolled at their home universities rather than Concordia. However, he finds that some of these students opt to come back to Canada to finish their degree or to do another one.
A government bursary has been established to encourage Quebec students to broaden their minds with an exchange year, but it's still a hard sell. However, last year, this number increased from only 29 in 1999-2000 to 128, and is likely about the same this year. Thanks to exchange agreements, Concordia students are studying in France, the U.K., Australia, the U.S.A., Mexico, the Netherlands, Denmark, Austria, Germany, Iceland, Italy, Argentina, Finland, Hong Kong, Japan and Spain.
Dr. Sahni said that his office will promote bilateral exchanges between Concordia and other countries as opposed to the general Quebec exchange agreement, as he feels that the government will eventually require parity, i.e., Concordia will only be able to accept as many exchange students as it sends to other countries. This could have a serious effect on Concordia's intake.
Dr. Sahni was pleased with the attendance at the consular reception for international students held in the tent at Loyola on Sept. 12. This has become a fixture of Concordia's social calendar, and the consuls look forward to meeting students from their countries in a convivial atmosphere.
The annual party given for all Montreal's new international students, hosted by Mayor Gérald Tremblay, was held at the chalet on Mount Royal on Sept. 17.