Faking Death: A complex look at art and identity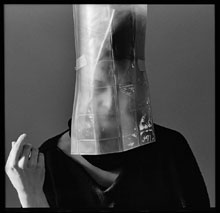 It took her 20 years, but photography critic Penny Cousineau-Levine has published a book that identifies the remarkable threads that run through Canadian art photography, including themes of bondage and death.
The germ of Faking Death: Canadian Art Photography and the Canadian Imagination (McGill-Queen's UP) was her gradual realization that Canadians had their own approach, and perhaps this was an important key to the elusive Canadian identity.
Cousineau-Levine did her MFA in Rochester, N.Y., in 1972-74. This immersion in the U.S. tradition and her contacts with photographers on both sides of the border made her realize how the Canadians differed from their better-known American counterparts.
She also became aware that little scholarly work had been done on Canadian art photography as a whole: "There really wasn't a vocabulary to talk about it."
After years of examining Canadian art photography, she went back to the critics, including Northrop Frye, John Ralston Saul and Linda Hutcheon, and found that the themes they identified in Canadian literature and political life— of disconnection, of looking out to another world — are also present in the work of many Canadian artists working with the camera.
In the book, she noted such preoccupations as the entrapment of animals, the inability of individuals to feel at home, recurring images of windows, "symbolic codes," parallel "zones of reality," and especially, "a fascination with the phenomenon of death that goes far beyond that of any other group."
She even compared the Canadian identity conundrum to anorexia, in which the sufferer dreads maturation and tries to achieve an unworldly state of being. The title of Faking Death comes from a work by Vancouver artist Jeff Wall.
However, it may also be a comment on the evolution of the Canadian identity that in Faking Death, Cousineau-Levine treats francophone and anglophone photographers together, because she finds that they share many of the same preoccupations.
Cousineau-Levine was a student of the Loyola College communication arts program, which she recalls as "fabulous." With an English lit degree from the University of Manitoba, she was intrigued by the McLuhanesque offerings of Loyola College, and took no fewer than seven courses in the academic year1969-70.
Many of the photographers represented in the book are, in fact, from Concordia, including John Max, Charles Gagnon, Evergon, Gabor Szilasi, Raymonde April, and Clara Gutsche.
Photography is at an interesting stage, Cousineau-Levine said in a phone interview from her Ottawa home, because photos can be so cleverly manipulated. This makes it a marvellous medium for artists, but a confusing one for the viewer. "In the 20th century, photography was the gold standard for truth, but that's no longer the case."
She added that the commercial and the artistic boundaries are increasingly blurry, as photographers appropriate the imagery of advertising and popular entertainment to make artistic statements.
Faking Death consumed her summers for many years, as she juggled teaching full-time at Concordia with raising her children. One thing that kept her at it was the prodding of her students and former students.
"It represents a large corpus of work, and it took a long time to get it together," she said. "As an academic book, it had to be submitted to an anonymous group of readers. It was very expensive to produce, and getting permission to reproduce the photos took an average of five or six e-mails for each image." There are about 165 photos in the book.
Her next project will be about "the female masquerade" in art, she said, but she admitted, "I don't know if I'm going to feel as strongly about it." Faking Death, which has already got a lot of attention, notably a big spread in the National Post, was probably the book of her life.