Science Complex named for Richard J. Renaud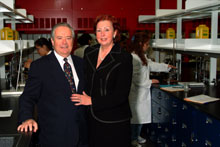 Rick Renaud thinks of Concordia as "the most under-told story in town," and it's hard to interview him without getting an extended commercial for the university. He's a tireless Concordia booster, giving money for scholarships and bursaries, donating to the university's capital projects, and persuading other Montrealers to support the cause.
Renaud is a graduate of Loyola, both the high school and the college (BCom '69). He became a chartered accountant and taught part-time in Concordia's business school in the mid-1970s. He describes himself as a merchant banker specializing in restructuring, and made his career by buying companies and re-selling them. Now he probably spends about half his time being creative with his philanthropy.
He gets his biggest payback out of helping needy young people, from the exceptional Concordia graduate he is putting through medical school to the hot-meals program he started for teens in Verdun.
Looking to the future
People who think business people are conservative might be surprised at how forward-looking Renaud is. "Sixty per cent of university graduates are women — 85 per cent in some countries. The 21st century will be about women [achieving power through devices like] micro-loan programs."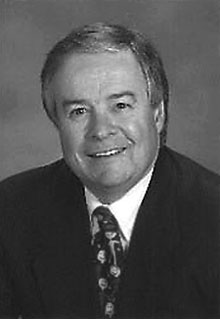 He also thinks Concordia has been an innovator, but a practical, prudent one. "Big-name schools are spending billions on e-learning programs, but Concordia has been doing this for about $500,000. Our consumers for e-learning will be baby boomers, and it's not something that's elite-driven. We can deliver education electronically to remote places like Lesotho [South Africa], and e-education will lower our costs."
Renaud can even see a silver lining in the hard times of the past decade. "The funding and political slump [in Quebec] positioned us for future fundraising. Our capital campaign put us on the map. Sure, we had a lot of challenges — big community donors were affected by the Netanyahu affair — but the tide is changing."
One thing that drives Renaud is the album of touching letters he has got from students who received bursaries. He's stunned by the enormous need out there, and he would like to see his wealthy friends, and maybe some of the rest of us who are just comfortable, take a needy student under our wing to support their education.
A modest philanthropist
He joined Concordia's board of governors in 1989, but it was the Fabricant crisis of 1992 that really piqued Renaud's interest. He has been more active since then — on the board's advancement committee, on the advisory board of Engineering, and as board vice-chair and vice-chair of the Concordia Foundation.
He's personally modest, even shy. He rarely gives speeches, doesn't want to chair the Board of Governors, and he caused university staff some mild consternation when he declined media interviews at the opening of the building named after him.
He made a speech this summer in England at the invitation of the Oxford Round Table, a conference on university administration. In it, he pointed to the need for philanthropists to close the widening gap between inadequate funding and increasing need.
He related Concordia's own experience: "An initial hurdle to overcome was psychological. Concordia University and its predecessor institutions did not have the strong tradition of fundraising of older Canadian universities and both private and state universities in the United States.
Growing endowments
"In 1995 Concordia's endowment stood at a very modest $8 million. The university had contact with and received regular donations from fewer than 17,000 of its then 90,000 alumnae and alumni. These donations amounted to barely $1.5 million per year, the funds being applied largely to support student scholarships, " Renaud said.
"What is our current situation? The [Concordia] University Foundation now stands at approximately $100 million, including $20 million in pledges which are being paid off over the next three or four years. Annual giving has doubled to $3 million."
He went on to describe the current construction projects, for which funding started with a three-year capital campaign. Individuals and corporations contributed most of the $77 million raised in the capital campaign, and another $40 million pledged afterwards. The largest contribution from an individual was $13 million, and another $10 million donation went towards the naming of the John Molson School of Business.
Renaud also told his audience about the $200-million bond issue that was crucial in raising money for the science building. He said he happened to be reading a history of the McGill School of Medicine, 1829-1885, and it gave him an idea he could apply at Concordia.
"We were able to get a 40-year commitment whereby the interest [on the bond issue] is being paid by a $4-million levy against the budgets of three of our faculties. It is interesting to note that 70 per cent of these budgets are actually salaries of the professors. [Through this means,] the Concordia Foundation will pay $2 million per year for the next 40 years based on the capital raised from the capital campaign.
"The Quebec government has agreed to contribute $4.5 million of the annual cost based the rental properties, which allowed us to move from 73 civic addresses in Montreal to 10. The balance of $2.5 million annual payment will be covered by the annual giving program. The $200 million principal will be paid, we expect, by a donor who will purchase a 40-year zero coupon bond, at a cost of $15 million, on behalf of the university."
While he has no special affinity with the sciences, the idea of the new building thrills him, particularly the effect it will have on the gracious but sleepy west-end campus he knew as a student.
"It makes a statement about excellence," he said recently. "It's the most modern building of its kind, in an unbelievable location. Concordia is really poised to go forward now."