Retrospective of a gentle revolutionary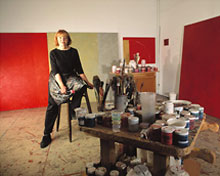 This summer, the Montreal Museum of Fine Arts is paying tribute to Françoise Sullivan with a retrospective of her remarkably varied body of work.
The woman they call "the grande dame of modernism" has been an influential teacher in Concordia's Faculty of Fine Arts for more than 25 years. It's a period that spanned revolutionary social and artistic changes in Quebec — changes of which she was a significant agent.
Visitors to the show at the MMFA walk through a series of rooms, each roughly devoted to a decade in Sullivan's artistic life.
In the early 1940s, as a young art student at the École des Beaux-Arts, she was a member of a group who gathered around iconoclastic painter Paul-Émile Borduas. Borduas excited his students with his familiarity with European surrealism, his contacts with the New York avant-garde, and his drive to use the unconscious as a source of creativity.The young artists formed a school of their own, called the Automatistes, after their instinctive, free-ranging approach to art.
In 1948 the artists published a manifesto, Refus Global, that shook conservative, clergy-dominated Quebec to its roots and planted the seeds of the Quiet Revolution of the 1960s. By that time, Borduas had left Quebec for freer-spirited France, as did his most famous protégé, painter Jean-Paul Riopelle.
Sullivan was a dancer as well as a painter. She not only signed the Refus, but she contributed to the pamphlet an essay on modern dance, which was then almost unknown here. She was photographed dancing in the snow in 1948 by Maurice Perron (and filmed by Riopelle), and has lent a series of the black-and-white photos to this exhibit.
In the 1960s, she focused on her four children, but was soon back making art, creating knobbly, tough-looking metal sculptures. In 1970, she had an epiphany on a visit to Europe, and started doing what we would now call performance art, blocking and unblocking windows in old stone buildings with big stones; there are photos of her doing this in the show.
In the 1980s, she returned to painting, creating large, circular, sombre-coloured tondos, as she called them, and playing with images of nature and myth. She is still painting abstracts, but in her latest work, the colours are vibrant reds and blues, and the canvases monumental.
Sullivan began teaching at Concordia in 1977, and continues to give two courses a year, promoting painting, and especially abstraction. With the rise of minimalism, conceptual practices and theory, she finds that while these can be enriching to the study of painting, the practice itself has been somewhat devalued.
"The students have such eagerness. They want to paint," she said emphatically. "They want to know that painting is not just 'anything goes.'
"They want to learn that painting is an art, and that art is a matter of awareness, intuition and invention. Art aims at being something that counts, something that makes a difference, that benefits our lives."
Sullivan was interviewed at length by Eleanor Wachtel on CBC Radio's The Arts Tonight on June 24. Here are some more events organized around the Sullivan retrospective at the MMFA.
Two lectures: Interior Figures, or the Dream Life of Françoise Sullivan, by Gilles Lapointe, UQAM, 6 p.m., Sept. 17 in French, Sept. 24 in English; and In Search of Lost Unity: The Art of Françoise Sullivan after 1960, by Patricia Smart, Carleton University, 1 p.m., Sept. 20 in French, Sept. 27 in English. Two films: Hiérophanie II, 1978, 23 minutes, and Corps à corps : au Québec, la danse a 50 ans, 1998, 55 minutes, Sept. 20 and Sept. 27, at 3 p.m. All in the Maxwell Cummings Auditorium, free admission.