Lowy to Montreal: There's a real renaissance here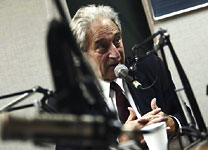 Rector Frederick Lowy was the featured guest last weekend on L. Ian MacDonald's CJAD show The Insider. He entered the radio studio with the big smile of someone with good news to report.
On the smooth re-entry to classes, he said, "It's been a remarkable beginning to the year, with students enjoying themselves and just being students." Those running student government, he said, "have their feet on the ground."
Lowy said that Concordia's ethnic diversity makes debate on international issues inevitable. There would be tensions as long as there continues to be conflict in the Middle East, but what made recent years different was the involvement of "a really small group, many of whom had nothing to do with either the pro-Palestinians or pro-Israelis, but who wanted to destabilize the university."
As an example of the current harmony, he and other senior administrators had helped serve at a kosher and halal barbecue for students, an orientation activity organized by the Concordia Student Union executive.
On Concordia's academic reputation, Lowy was asked, if McGill is the Harvard of the North, a phrase coined by an enthusiastic American reporter, what is Concordia? Lowy replied that no Canadian university can compare to Harvard because of the yawning gap in their financial resources.
"Harvard has an endowment of $17 billion. McGill's is between $800 million and $900 million Canadian. We simply cannot compare them. The marvellous thing is that we do as well as we do. We have a reliable system [in Canada], but it's under great strain."
On low tuition: "This is a real problem for us, and for the government." Tuition is about $4,000 a year at the University of Toronto, $6,000 at Dalhousie – and only $1,667 a year on average at Quebec universities.
"Unless the situation is redressed, we're in trouble. It's our single most important problem. . . Either taxes will have to go up, or there will have to be some form of deregulation."
On renewal and growth: Lowy told CJAD listeners that Concordia has hired 48 new professors this year. Enrolment is at record levels – 33,000 in degree and diploma programs, and 7,300 in continuing education -- and demand is likely to persist.
Lowy said he is particularly pleased by the revitalization of the Loyola campus. He described the construction boom, faculty renewal and continued rise in enrolment as "a real renaissance" at the university.
Asked by mischievous co-interviewer Andrew Carter whether he has his own parking spot, Lowy said with a smile, "We have an egalitarian atmosphere. I don't have a parking spot just for myself. I just scramble like the rest."