International students face challenges calling Montreal home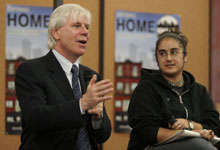 Maya Chivi arrived at Concordia three years ago without a friend or a home.
Most freshmen deal with pangs of homesickness, but for the international student from Dubai, she had added burdens of government bureaucracy, culture shock and loneliness.
She received her study visa just days before catching her flight from the Middle East to Montreal. She spent a week racking up hotel bills while looking for a cheap apartment. And new friends seemed to slip in and out of her life.
"Canadians love one word: acquaintance. They don't know what it's like to go home and talk to the walls," Chivi said last week. Chivi no longer needs to seek out friends, an apartment or feelings of home. Instead, she wants others to know the obstacles students like her face when calling Montreal home.
She was one of dozens who participated in a forum last week to discuss those challenges. The event, moderated by local CBC anchor Dennis Trudeau, was part of Montreal Matters – a CBC initiative that encourages community dialogue on this year's theme: the home.
Concordia's international student population has skyrocketed in just two years. The number of international students jumped 64 per cent from 1,944 in 2001 to 3,200 students this school year. International students make up anywhere from 7 to 15 percent of the total students in each faculty.
For Concordia's international students, problems range from finding cheap and affordable housing in a city with less than a 1 per-cent vacancy rate to handling immigration issues and finding new friends.
Christina Xydous of the CSU's Housing and Job Bank says international students are often unaware of their rental rights and are at the mercy of deceitful landlords.
"They come so shortly before the school year begins," Xydous said. "They tend to be rather uninformed about these things." Xydous accused the university residences of engaging in the same kind of practices by increasing rents and deposits for refrigerator rentals.
"There are numerous, numerous abuses of clauses," she said at the forum.
Melanie Drew, director of residential life, told Xydous she was surprised to hear of the complaints. She said she was unaware of any legal violations, but asked Xydous come to her office to talk about the concerns.
Other students said their most pressing need besides affordable housing is finding work.
Gisella Luja, president of Concordia's International Student Association, was able to snag a part-time job with applied human sciences.
Other international students weren't so lucky.
"I've had friends who have had to go home. One is looking for a job now in France," Luja said.
Convoluted immigration laws and their timing often require students to be experts at bureaucratese and time management. A single day late in applying to extend a study visa can result in a student being slapped with a $200 fine, said Isabella Lacelle, director of Concordia's International Students Office.
And post Sept. 11, backlogs are clogging Citizenship and Immigration Canada offices.
"Students are facing very long delays," she said.
For some, the most pressing need is simply fitting in.
American Keven Woo said he would have never thought of battling culture shock in a North American country. However, the 20-year-old computer engineering student from California continues to battle his first pangs of homesickness.
"It's the language. I had never been to French Canada," he said. "My American accent stands out."
Woo is hitting the gym, staying busy and trying to remain positive.
"I'm counting the days until Christmas break," he said.