Simone de Beauvoir Institute celebrates silver anniversary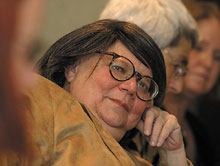 Long ago, the building housing the Simone de Beauvoir Institute was a neighbourhood brothel. Some might see it as an inauspicious beginning, but for women's studies principal Lillian Robinson, it's an ideal symbol of the movement.
"It was a place of women's labour, of women's sexual exploitation," she said. "We take over the space and use it for our own purpose to make changes in the world. That's what the Simone de Beauvoir Institute is about."
The Institute, founded in March 1978, is now celebrating 25 years of feminist activity at Concordia. Though the college has been a center of feminist thought, at the time of its founding feminists were still debating whether or not they even wanted to be part of the academy.
"Some wanted to claim a place for feminist intellectual work," said Elizabeth Lapovsky Kennedy, former director of women's studies at the University of Arizona and invited guest on a recent women's studies panel. However, other feminists worried that institutionalizing their ideas might stifle their intellectual vigour. Kennedy explained that feminists wondered, "Once we're legitimate, are we still going to have a critical edge?"
The Institute itself is named after a woman many consider to have been on the cutting edge of feminist thought and the founder of women's studies. Simone de Beauvoir, author of the landmark book The Second Sex and instigator of using an interdisciplinary approach to study the identity of women, served as a role model for and proponent of the college.
Currently, the college offers a major, a minor and a certificate program in women's studies. Eventually, Robinson said, the Institute would like to develop a graduate program, though she acknowledges that this will probably not happen in the near future.
Having weathered growing pains and a 1997 threat of being shut down, the Institute continues to expand its scope and breadth. For example, two years ago it introduced an internship option, sending students to work at places like La Centrale, a women's art gallery collective, Divers/Cité, an organization dealing with sexuality, various women's shelters, and even a law firm.
Course offerings have also greatly expanded to accommodate many of the emerging concerns in the field. The program, which employs three full-time professors and 13 part-time faculty, currently offers 22 courses, including new courses on post-colonialism and feminism, controversies in feminism, and women in the Muslim world.
"We have no centralized curriculum because it's a growing field," said Robinson. "In fact, we're not yet a field, we're a field of dreams."
Having built it, the students keep coming. The Institute had 27 program students in its first year; last year they had 137.
Current students had many positive things to say about the college. For Women's Studies major Karine Deschamps, one of the best aspects is the input that students have into the program's shape. Every year, women's studies students meet with the principal to give suggestions for future curricula. "Some of last year's suggestions are on this year's curriculum," she said.
This, said Robinson, is both the greatest success and the biggest challenge of the Institute. "We have students who are so aware of their studies and the contradiction with the real world that they push for new courses. Yet the challenge is to do it right, to make it more than just a service, to make sure we're aware of the social forces."
This is the spirit which transformed a former house of ill-repute into an important centre of feminist thought. It is the same spirit, Robinson hopes, which will keep the Institute vibrant and relevant for the next 25 years.
Author Victoria Rowe will launch her book A History of Armenian Women's Writing: 1880-1922 as part of the Institute's twenty-fifth anniversary celebrations. The launch will be at 7 p.m., Nov. 12, at the Simone de Beauvoir Institute, 2170 Bishop, Room 101.