How Swede it is! Cecilia Anderson is holding Concordia's line of defence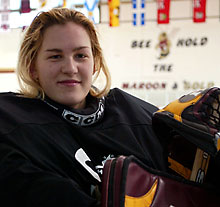 She's tall, blonde, Swedish and has a great smile. Oh, yeah, she's pretty good at stopping pucks too.
Meet Cecilia Anderson, the newest weapon for coach Les Lawton's potent Concordia Stingers women's hockey team. The first-year goaltender has already earned the starting spot and was undefeated heading into play last weekend. The native of Vaddo, Sweden, is one of the biggest reasons the Stingers have been in first place since the start of the season.
"Cecilia is very skilled and just loves to play the game," Lawton said. "She's got a great attitude and is easy to teach. She'll only get better." Anderson, 21, started playing hockey when she was seven years old and played on boys' teams until she was 17.
"There really wasn't much of a women's hockey program in Sweden when I was growing up," she said. "Playing with and against the boys made me better. When I reached 18, though, I knew I wanted to come to Canada for the hockey."
Anderson heard about Concordia's legendary women's hockey program from Stinger player Anne-Marie St. Germain, who was billeted in Anderson's home during a ringette exchange last year.
She came to Montreal in the summer of 2002, but didn't enrol in Concordia's Leisure Sciences program until the fall of this year. She spent the early part of 2003 brushing up on her English at a local private school. She has yet to learn French, but wants to make that a priority.
"I already spoke English because I've traveled a lot and also worked at the airport in Stockholm where we had to speak English" she said. "To be honest, I don't really miss anything about Sweden. I love it here. Sometimes I miss all the Swedish candies I used to love, but I can always get them from Ikea. They have a food shop there now!"
Women's hockey has grown by leaps and bounds in this country for the last decade and the stability of the team at Concordia has been a focal point of the sport's popularity.
"In Sweden, women's hockey struggles to be accepted," Anderson said. "It's tough to find ice time and often we would have to practise at 10 p.m. The quality of coaching is much better here as well."
Anderson is five foot eleven and weighs 155 pounds. Her long legs means she has to wear men's goalie pads loaned to her by Kevin Figsby, coach of the Concordia men's team.
It's no surprise that Anderson's two favourite NHL stars are goaltenders Tommy Salo (a fellow Swede) and Jean-Sebastien Giguère, who starred in the playoffs for the Mighty Ducks of Anaheim last season.
While many Swedish girls may have posters of local tennis stars or soccer players in their rooms, it was pictures of Patrick Roy that adorned the walls of Anderson's room.
"I use the butterfly style of goaltending like Giguère and Roy," she said. "I'm big, and that style means I should be able to cover most of the net. Giguère is awesome. He's like a rule book!"
Anderson, who got a brief tryout with the Swedish national women's team last year, would love a chance of making the squad and playing in the Olympic Games.
"Yeah, that's my goal, and the best way to do that is to just get better here at Concordia," she said. "We have a really good team and we have a lot of fun together — even if they do tease me about my accent!"