Undergraduate awards include 23 new scholarships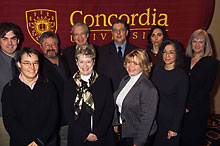 More than 240 faculty, students, administrators and benefactors turned out for the inaugural Undergraduate Scholarships and Awards Breakfast Reception, held in the Château Champlain ballroom on Nov. 14.
This year, 23 new undergraduate awards were inducted, bringing the total to 138 scholarships and bursaries given to Concordia undergraduate students annually.
The induction included 10 Canadian Irish Studies Foundation Scholarships. Brian Casey, a 1960 Loyola graduate who helped raise $3 million for an endowment to support Canadian Irish studies at Concordia, said he was particularly struck by the large number of smaller donations that came in, proof of the community support this project has inspired.
John Parisella, introducing the John E. Parisella Family Bursary, was delighted to see among the attendees his former Concordia political science professor, Henry Habib, who was being honoured with the induction of an undergraduate bursary in political science in his name.
Parisella was a Loyola College graduate of 1967 and a vice-chair of Concordia's Board of Governors from 1998 to 2003. A political advisor to the late premier Robert Bourassa, he continues to be a strong proponent of education and public service. He said that Dr. Habib has been a lasting influence not only on him but on many of the students he taught over his years at Concordia.
Rector Frederick Lowy expressed heartfelt congratulations to the undergraduate award recipients, and deep gratitude to the benefactors for supporting the university not just financially, but above all for believing in the institution's excellence.
Benefactors expressed different motivations for supporting Concordia. Some bursaries were established to commemorate people who made important contributions to the university, such as Gabriel Rinfret Murphy, who from 1974 to 1997 was Concordia's liaison with the Loyola Alumni Association and Association of Alumni of Sir George Williams University, and Dr. Irving Tait, who chaired the university's building committee in the 1950s and '60s.
Other awards were motivated by the role Concordia played in providing access to quality higher education; for instance, the William & Nancy Turner Foundation Award, the TD Bank Financial Group Bursary and the Norshield Financial Group Scholarship. Still other new benefactors, such as Ronald Schwartz, BComm 91, want to share some of their success with new generations of students at their alma mater.
At the end of the breakfast reception, Financial Aid and Awards Director Roger Côté asked all the scholarship recipients to stand up to be recognized. It was a sight to make the whole Concordia community proud.
- Francine Freeman, Co-ordinator of Donor Relations & Stewardship
Here are the new awards inducted on Nov. 14:
Morley & Rita Cohen Foundation Bursary
Marjorie McInnis Grant Cooper Bursary
Berlettano Family Bursary
Gabriel Rinfret Murphy Bursary
Richard T. Stilwell Sr. Memorial Bursary
Richard J. Renaud Athletic Awards
Dr Irving Tait Bursary
Canadian Irish Studies Foundation Scholarships
Crevier-Bronstetter Award
Henry P. Habib Undergraduate Bursary in Political Science
John E. Parisella Family Bursary
Lorne & Ann Tierney Award in Journalism
Luigi Liberatore Scholarship
Mirabaud Canada & Pictet Canada Scholarship
Andrea Bolger Bursary
George & Helen Economides Scholarship
J&S Schwarz Bursary
Risk Management Award
Rogers Sportsnet
Ruby, Stein, Wagner Scholarship in Accountancy
TD Bank Financial Group Bursary
William & Nancy Turner Foundation Award
Norshield Financial Group Scholarship