Artists find inspiration in the things they share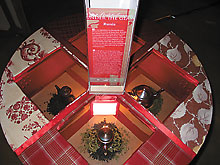 Design professor Lydia Sharman challenged her students, who come from across the country and around the globe, to create an exhibition exploring one theme apparent in three different cultures. Each project had to incorporate a wide variety of histories and visual traditions.
The result was A Cultural Discovery Through Vernacular Artifacts. The interactive exhibition created by the Collaborative Projects class transformed the Visual Arts lounge from Oct. 21 to Nov. 4.
Sharman divided the class into groups of three, mixing their ethnic backgrounds and language abilities. Students had broad artistic freedom, but they had to recycle materials into items that could be taken apart afterwards. This is a requirement for most projects in Concordia's Design Art Department.
For Arwa Abouon's trio, the choice was obvious: tea. Born in Libya and raised in Montreal, Abouon was matched with students from China and Russia, for all of whom tea played an important role in social gatherings.
"The three different cultures are coming together for a glass of tea, like tea party," Abouon said, describing the design of the project. For their presentation, the centre of a round wooden table was removed to reveal three small teapots. The table was purchased second-hand, while many of the other materials were found objects. Above each teapot is an explanation of the role and origin of tea in each country.
Vibrantly coloured pieces of fabric from each culture cover the remainder of the tabletop. The sienna floral pattern belonged to Abouon's grandmother and came from North Africa, while ivory silk and wool plaid represent China and Russia. "We made it a lot like a table you would find in someone's home," she explained.  
For their presentation, Joëlle Calce La Frenière's group decided on the alphabet because they enjoyed working with typography. A native of Quebec, La Frenière explored the Latin language and its connection to French, while her group members looked at the Arabic and Serbian Cyrillic languages.
The group constructed the three-sided freestanding work of thin cotton and recycled wood, redesigned from desks and doors. All information was screen-printed onto the cotton panels and was softly lit from within.
Other presentation topics included fairy tales, fishing, head wear, alcoholic beverages, and religious architecture.
Even Dr. Sharman, a designer since 1957 and professor since 1992, was impressed with her students' installations. "I think they were amazing. I was enormously pleased with the results," she said, beaming.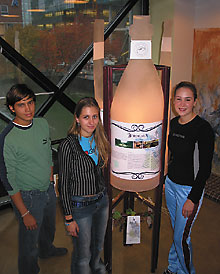 For many students, it was their first exhibition. What they found most challenging was integrating the elements into one fluid presentation. "It combines proper lighting, research, graphics, and also [creating a standing] display," said Karin von Ompteda.
The collaborative process allowed young designers to hone their communication skills and gain experience working with others, which Sharman believes is necessary for the real world of design. She wrote her PhD on Islamic visual and traditional arts.
The cross-cultural project was dreamt up by assistant professor Martin Racine three years ago and was adopted by Sharman this year. She recognized its potential for integrating two- and three-dimensional design and forging an artistic community across ethnocultural lines.
"In Canada, our classrooms are all culturally mixed," Sharman said. "When students work together well, it has so much energy, and gives real satisfaction."