Professor's theatre company gives audiences what they crave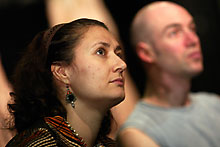 The play ends and no one claps. This is director Kate Bligh's greatest hope.
If last Tuesday's audience for Temenos' first production, Crave, is any indication, Bligh has done her job admirably. The cast walked off stage and the audience spent a full minute in silence before the first timid handclaps began. The claps stayed muted, as did the audience members.
"One girl told me, 'I can't speak,' which has been the best compliment I've received so far," Bligh said. "I really feel I've succeeded if I can silence an audience." Bligh is a part-time Concordia theatre and English professor and founder of the theatre company Temenos.
"I don't want the kind of play where everyone applauds, gets up, goes home and forgets about it," she said.
Instead, Bligh explained in an interview, she is looking for theatre that will be layered, stimulating and troubling — theatre that stays under your skin.
"Theatre should be providing what film and TV do not, but it rarely does that," she said. "Even though there's a lot of theatre around, not much of it is very high quality."
Crave, a play by the fiery and controversial British playwright Sarah Kane, is a dense, poetic work that grapples with issues of identity, development, and humanity. Kane is known as a visceral and violent writer, and her plays often incorporate cannibalism and great savagery, but Crave is different.
"Crave is not physically explicit," Bligh explained. "It's emotionally explicit. It's quite an ambiguous play, but there's a lot of beauty, tenderness and optimism. It's about our primal emotions: anger, fear, love."
In an inspired reading, she decided to stage the play by suspending each actor in a canvas sack, and for two-thirds of the play the actors remain encased in these cocoons, preparing for their metaphorical birth. These sacks represent homunculi, the pre-natal fully-formed human beings medieval thinkers believed were carried in sperm.
This play, however, was no fully-formed version of itself when it began. A typical company will rehearse for one hour for every minute of stage time; for Crave, a 60-minute production, the cast rehearsed for 180 hours, three times the usual amount. "It was to get it right," Bligh said. "I aim for artistic excellence."
So does the Temenos theatre company. Its stated goal is to cultivate excellence and virtuosity, and its cast and crew, all but two of whom have Concordia connections, volunteered their time to stage this show and lay the groundwork for the company's reputation. None of the actors were paid, and Bligh took out a personal loan to rent the theatre space.
Such sacrifices are made with an eye to the long term. They already have next year's production schedule sketched out: a workshop in March of Howard Barker's The Last Supper, to be done in French as La Scène, then a staging next fall of August Strindberg's Le Songe/Dreamplay.
If Bligh's dream comes true, these plays, and many more, will bring the sound of silence to Montreal's theatregoers.
Crave, by Sarah Kane, will play until Nov. 22 at the Monument National, 1182 St. Laurent Blvd. Showtime is 8:30 p.m. Tickets, $12-18. Call 871-2224 for reservations.