Creating solutions together: Students support volunteers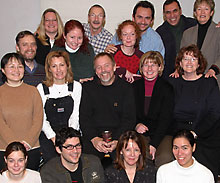 The students in Concordia's Human Systems Intervention program got together recently with a large group of volunteers from around Montreal for a weekend of mutual learning.
The event, called Creating Solutions Together, was made possible through a partnership with the Volunteer Bureau of Montreal. This is the ninth year such an occasion has been organized. The idea was to support volunteers in meeting their own needs, and provide them with an opportunity for networking.
Alison Stevens, Co-ordinator of Training and Consultation at the Volunteer Bureau, said, "There is a lot of emphasis in volunteer work on providing for the needs of others, [but] sometimes volunteers don't feel comfortable expressing their own needs." The students played host to the 87 volunteers and staff on Oct. 18 and 19 at their annex on Bishop St. Eight weeks of planning, co-ordinating and organizing went into the event.
The students introduced the Thomas-Kilmann Conflict Mode Instrument, which provides information about one's conflict-handling style. Since the students hosted this event as part of a course, they also reflected on the experience and what they learned about working together, facilitating, and group development. They noted the impact of the workshop on individuals and their families and friends, their volunteer organizations, and the community of Montreal.
Human Systems Intervention (HSI) is a graduate program in the Department of Applied Human Sciences. The 19 students in this class come from a range of professional backgrounds. They travel to Montreal from such places as Winnipeg, Niagara Falls, China and Mexico to study in the program.
Professor Raye Kass said, "AHSC 680 is the only course in Canada where students carry out an actual [as opposed to a simulated] intervention of this magnitude as a cohort."
The program is designed to give leaders and consultants the expertise to facilitate change within human systems, i.e. groups, organizations and communities. The MA program emphasizes the development of process-oriented observation and intervention expertise, as well as the ability of organizations to develop these capabilities for themselves.
For more information on Concordia's MA in Human Systems Intervention, go to http://artsandscience.concordia.ca/ahsc/Contact_Us.html. For more information on volunteering opportunities in Montreal, contact the Volunteer Bureau of Montreal at: (514) 842-3351.