Students prepare for business skills competition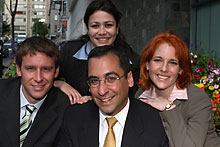 The 23rd annual Concordia University MBA International Case Competition, which bills itself as "the oldest, largest, and only truly global case competition in the world," will take place Jan. 5 to 10 at Montreal's Bonaventure Hotel.
This year, it is expanding from 30 to 32 competing teams. Sixteen are from Canadian universities and nine are American, including a school in Malibu, California (Pepperdine).
The others are Heinrich-Heine-Universität Düsseldorf (German), Universität Münster (Germany), University of Paderborn (Germany), Lund University (Sweden), Helsinki School of Economics (Finland), University of Auckland (New Zealand) and Escade (Spain).
The competition is a round robin, in which teams of business students analyze and solve business problems, or cases. One hundred and fifty students will take part over a hectic week.
The organizers for the 2004 edition are Anna Gunaratnam, Geoffrey Kalil, Kelly Patrick and Caitlin Patterson. They won the right to earn three credits by working all term on the event. As always, their previous degrees and work experience make good reading.
Anna Gunaratnam, who is doing marketing for the competition and organizing the volunteers, has already been through the competition as an executive assistant at last year's edition.
She has a Concordia fine arts degree in photography, and continues to be an artist. She also was a manager for Gap Inc. in both Canada and the UK, and served as a member of Gap Canada's Organization Health Committee.
Geoffrey Kalil, who is organizing the judges and events, graduated from Queen's University with an honours degree in economics. He worked as a senior auditor for Wasserman Stotland Bratt Grossbaum before coming to Concordia for his MBA.
He's active in the community, serving as a director of the Lower Canada College alumni committee and hockey league, and as a director and treasurer of the Junior Associates of Cedars Cancer Institute. Geoffrey is also a founding member of the annual Peter Assaly Memorial Golf Tournament, which raises funds for leukemia research and patient needs.
Kelly Patrick, who is in charge of the sponsorship and public relations, is an athlete who won a gold medal in squash at the Pan-Am games. He has a degree in history and economics from the University of Alberta. He has worked as a business analyst in Calgary, and for CIBC World Markets.
Caitlin Patterson is in charge of the schools and cases. She's from Boston, and earned a BA in community studies from the University of California Santa Cruz while working in the gourmet coffee industry. She also spent three years working in Nairobi, Kenya.
The volunteer judges are more than 250 executives who willingly take time out of their busy schedules to listen to the presentations, rate them, and, perhaps most important, provide feedback. In return, the judges enjoy meeting with their peers, recruiting young talent, and getting fresh business insights.
The lead judge is Stephen Sharp, Senior Vice-President, Congress Financial Corporation of Canada.
"Year after year I am constantly impressed by the high level of business skill the students bring to the competition," he said, and called the competition "a showcase that should not be missed by either the academic or business communities."
As for the competing students, an encomium on the competition's web page from Tristan Cammaert, who competed last year for the Schulich School of Business (York University), says it all.
"For me, it was the most challenging, rewarding, demanding, exhilarating, intense week of my MBA career," Cammaert wrote.
"The experience allowed me to work closely with bright, committed professionals towards the goal of creating the most feasible solution for the cases we were given. During the competition, I honed my analytical skills, which helped immensely in interviewing for consulting positions.
"The intensity of the experience developed my time management, communications, and presentation skills to a higher level. Our team overcame losses early in the competition to come back and place second. This taught us all humility, perseverance and determination."
It's the kind of endorsement any professor would like to receive.