Girlhood conference bridges international experiences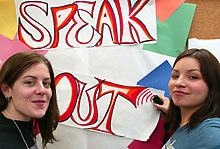 Two brightly-dressed women captivated their small Saturday-morning audience with accounts of domestic violence in Africa.
"[In Africa] one in three women has been beaten at some point and between 10 and 15 per cent have been abused by a partner," said Bathseba Opini, who recently immigrated to Canada from Kenya.
Opini was one of about 300 women of all ages and backgrounds who gathered at Concordia University last weekend for Transforming Spaces, the first national conference on girls and girlhood organized by POWER Camp National.
The conference, held from Nov. 21 to 23 at Concordia's downtown campus, brought together the experiences and knowledge of girls and women all over the world, as well as activists, educators and policy makers.
Tatiana Fraser is the executive director of POWER Camp National, a Montreal-based organization that is devoted to inspiring, promoting and supporting educational opportunities for girls and young women.
"At this point, I'd say the conference was a success because we achieved our goal of gathering people together to exchange experiences and learn from each other," said Fraser in a phone interview.
Yasmin Jiwani, a communications professor at Concordia who specializes in media and gender studies, agreed. "The conference created a much-needed space of belonging for the women who attended. It was a magical occurrence," she said.
A diverse group of students, mothers, girls and teens milled about the Hall Building, carrying small red tote bags bearing the conference's name. Some perched at a table strewn with craft supplies and socialized as they personalized decorations that would be used at the conference's closing ceremony.
"Our main reasons for being here are to learn, network and share ideas," said Janet Herring. She is the executive director of Partners for Rural Family Support in Humboldt, Sask., which provides services for families who are experiencing domestic violence. Herring said hearing others' experiences in a setting like the conference enables her to better assist the women and girls she helps on a daily basis.
The conference was not just for women and educators. A handful of 11- and 12-year old girls from a POWER Camp girls' club at Verdun Elementary School presented a skit during Saturday morning's workshops. The girls agreed that they enjoyed being a part of their group because they can talk about problems like boys and bullying. "We see bullying a lot and we want to stop it," said Samantha Beth Villeneuve-Luker, a Grade 6 student.
In Africa, girls and women also see and experience violence on a frequent basis. Opini and Elivered Mulongo, also from Kenya, discussed the problem at length in their workshop. "Because violence is common practice and engrained in the culture, we need lots of education. Women have to be sensitized to their rights," Opini said.
Interspersed among workshops on violence, body image, sexuality and identity were more creative sessions. Women were encouraged to dance as a form of self-expression, write poetry and make crafts.
Another workshop taught a roomful of women how to make their own re-usable menstrual pads and swap stories about their experiences with menstruation. POWER Camp National's Fraser hopes the conference will mean more than just a weekend of learning to its attendees. She said that often, these issues are marginalized in society.
"Bringing people together who do work in this field created an opportunity for exchange beyond the weekend."