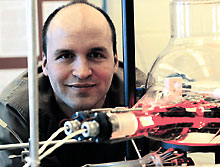 Professor wins Young Innovator Award
Assistant Professor Yves Gélinas, of the Department of Chemistry and Biochemistry, is this year's recipient of the 2003-2004 Petro-Canada Young Innovator Award (PCYIA).
Dr. Gélinas was naturally thrilled when he heard the news. "I am particularly pleased to see that Petro-Canada is ready to support fundamental research on the global carbon cycle," he said.
He will receive $10,000 from Petro-Canada to apply to his research. He plans to use the funds towards the salary of his graduate student, Denis Brion. A ceremony will be held early next year to mark this achievement.
In keeping with the program's theme this year of sustainable development and the environment, he received his award for his study on "the formation of organic matter and molecular oxygen during photosynthesis, and recombination of these energy-rich products during respiration, inextricably linking the global cycles of organic carbon (OC) and molecular O2."
Like other scientists around the world, Dr. Gélinas is working to solve the giant puzzle of global warming. Experts are racing to accumulate the data they need to do computer modelling of this crucial and worrying phenomenon.
An article published in CTR last winter described his work in some detail. He specializes is looking at the organic carbon cycle in relation to increases in carbon dioxide concentration in the atmosphere and increases in global temperatures.
At that time, he had just received a $213,779 CFI New Opportunities grant, and was using it in collaboration with researchers at McGill, UQAM and the University of Washington in Seattle to study the role of organic marine sediment — matter settled at the bottom of the ocean — in the delicate balance of greenhouse gases.
Professor Catherine Mulligan, of the Department of Building, Civil, and Environmental Engineering, was last year's PCYIA recipient.
For more on Dr. Gélinas' work, please go to http://ctr.concordia.ca. Click on Archives, and select the Jan. 16 2003 issue.