School of Business to house classroom of future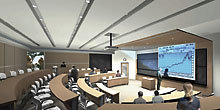 At a presentation in the DeSève Cinema last week, interested faculty and staff of the John Molson School of Business were given a PowerPoint tour of what their new classrooms could be like. In a new building with an integrated wireless network, a lot is possible.
Robert Levac, a project manager for Trizart Alliance, who is working with the Faculty and IITS on high-tech classroom technology, is looking at a comprehensive audio-visual system for the building's 83 areas: 50 teaching spaces, seven special rooms, 20 conference rooms and six public areas that will be housed in the new JMSB home, slated to open in December 2005.
The model being developed is a three-tiered system. Basic Level 1 areas will have a touchpad that can control laptops, DVDs, or external devices like an MP3-compatible system. It also integrates classroom audio and visual media and has the capacity to bring in outside media. Level 2 systems add the capability of producing, generating, recording and storing material on-site, as well as web casting in real time. Level 3 adds two-way communication for live distance conferencing.
In all these facilities, the professor runs the system, or controls can be given over to a technician in the room, or the system can be controlled in the Media Centre. The Media Centre receives Level 2 and 3 broadcasts and houses links to the outside world like satellite feeds and special services. It also acts as a backup and alternate control centre for the classrooms, and can also do post-production on classroom material.
Levac underlined the simplicity of the controls despite the power of the integrated equipment. Help is a only button away, he said. Technical staff are alerted over the wireless network and they can either take over the controls or solve problems remotely.
There were several questions from faculty and staff concerned about having the freedom to adjust the equipment to different styles of teaching. They wondered about backup and reliability of so much new technology.
"Ninety to 95 per cent of this technology is proven. We will have a year to a year and a half to test the brand new stuff," Levac explained.
Another faculty concern was the issue of privacy and confidentiality in a classroom that can record, broadcast and retain both image and sound. The concern extended to students being taped in the course of classroom discussion.
Levac explained that the technology in these installations is controlled by the teacher and these concerns would have to be dealt with by faculty members in consultation with their students.
Other aspects of the teaching environment, like room acoustics, lighting and sightlines, were being looked at by the architects and consultants. An online HTML version of the control console will soon be available to faculty and staff for testing, as well as a room with a working model where the equipment can be tested.