Professor demystifies country "between East and West"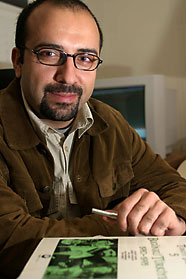 Political science professor Arslan Dorman wants to dispel a popular myth about his native country of Turkey: it does not have an identity crisis.
As the nation bordering both Europe and the Middle East was thrust into the international spotlight last month by a series of terrorist attacks, observers pulled out the old adage that Turkey was situated "between East and West."
Dorman thinks the suicide bomb attacks in Istanbul, in which 58 people were killed and 750 injured, were an attempt by terrorists to destabilize the Turkish government as it tries to balance its relations with the United States and the Muslim world, especially in the context of the war in Iraq.
But the young professor, who was educated in the capital, Ankara, firmly rejects the widespread notion that Turkish society is itself an uneasy flashpoint of Western and Islamic values, waiting to explode into open conflict at the mere lighting of a match.
"This is a fundamental misconception of life in Turkey," he told Thursday Report. "When you say 'between East and West,' there's always a friction, a fundamental problem. Two things clash, and you're forcing them to agree.
"It allows this country to be thought of as a weird place where two civilizations that do not fundamentally agree with each other try to survive. This is a wrong conception."
In reality, he said, Turkey is a place where elements from Islam and elements from Western culture – extracted over the centuries from Europeans, Persians, Arabs, Byzantines and Russians – live hand in hand.
"Turks are not in between two worlds, they're living in both worlds at the same time," he said. "And they are very much comfortable with that. They're not living in antagonism."
Hence, Turks from all political persuasions were united in their condemnation of the bombings, targeted at two synagogues, the British consulate and the Turkish headquarters of a large, British-based bank.
"If there was a design to fragment the country, it does not seem to be working," Dorman said, adding that there is only a small minority of radical Muslims in Turkey.
"Turks have their own specific interpretation of Islam, which allows for European, Western, or Christian forms of social expression to co-exist with Turkish traditions and customs."
Indeed, the attacks appear to have been aimed at Turkey's long-standing ties with the West. As the most Western-oriented nation in the region, the country of 66 million has been a crucial ally of the United States and Europe ever since the Cold War. It joined NATO in 1952.
Like all governments in Turkey's modern history, the government of Prime Minister Recep Tayyip Erdogan, elected about a year ago, is engaged in a "politics of omni-balancing," Dorman said.
Despite its moderately Islamic orientation, the secular government understands that it cannot drastically change Turkey's political and financial links with Europe and the U.S. Both the political and business elites in Turkey believe firmly in these strong relations, something that will not be changed overnight, he explained.
In accordance with popular opposition to the U.S. intervention in Iraq, Turkey refused to allow the Americans to invade its neighbour from Turkish territory. But later, in an apparent effort to restore relations with the U.S., the Turkish parliament voted to send troops into Iraq to help with the reconstruction. Due to domestic resistance, the plan was not carried out.
"They were trying to strike a balance, but this balance was basically on the side of the Americans," Dorman said.
In his analysis, the terrorist response was an attempt to "drive large segments of the population in Turkey closer to the fight against terrorism [and] to drag Turkey into the conflict to become part and parcel of the war in Iraq."
The ultimate objective of the terrorists, he estimated, "is to destabilize Turkey and its relationship with the West, to destabilize the political system of this democratic and more modern nation in the region."