Concordia has just acquired seven new Canada Research Chairs, bring the university's total to 10. All the recipients are on the cutting edge of their fields of study, and will greatly enhance the university's research profile.
Mark A. Ellenbogen, CRC in Psychopathology, looks at what makes children vulnerable to social, academic and mental health problems. He looks at the developmental antecedents of behavioural and emotional problems in high-risk adolescents and young adults. He comes to us from the Université de Montréal. More
CTR online


The CTR appears every two weeks, but daily news is always available from News@Concordia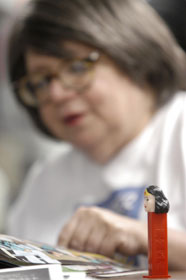 Contemporary feminists seeking models of female empowerment should look in the direction of the comic book aisle. This is just what Simone de Beauvoir Principal Lillian Robinson did for her latest work, Wonder Women: Feminisms and Superheroes, released March 22.
In a tribute to Wonder Woman, Robinson offers a thoughtful cultural critique of the female stars of American mainstream comic books, situating them within More
Departments
Next issue:
April 22, 2004