A critical look at the Wonder Woman myth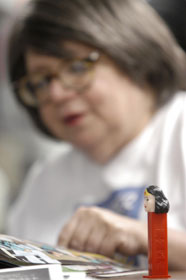 Contemporary feminists seeking models of female empowerment should look in the direction of the comic book aisle. This is just what Simone de Beauvoir Principal Lillian Robinson did for her latest work, Wonder Women: Feminisms and Superheroes, released March 22.
In a tribute to Wonder Woman, Robinson offers a thoughtful cultural critique of the female stars of American mainstream comic books, situating them within the struggle for equality, the production of culture and an ever-changing conception of beauty.
The book is divided into three parts: "Genesis," consisting of early renditions of Wonder Woman, "Chronicles," about heroine descendants from the 1950s onward, and "Revelation," which is about postmodern heroines.
It began as an antidote to a larger, much grimmer project, a book on myths of inter-racial rape in American society, which she continues to work on.
The inspiration for the Wonder Women book goes back to Robinson's childhood, when the famous Amazon first caught her eye. A bookish girl at the age of seven, Robinson soon graduated to picture-less stories about tomboys like Louisa May Alcott's classic, Little Women. She quickly realized, though, that even Jo March, a character Robinson calls a "tomboy par excellence," simply could not compare to the triumphs of Wonder Woman.
Tomboys were the only characters that challenged the traditional female role, Robinson explained, noting their appeal for young women.
"Only the tomboy story tends to be one about defeat, learning and growing up, but Wonder Woman never has to grow up. You don't have to get old in comic books. She is eternally 21." Robinson, like the heroine, turned 63 this year.
Not one to shy away from controversy, Robinson pointed out the many shortcomings of the leotard-clad superheroes.
"For half of Wonder Woman's life, there has been an active women's movement that has gone into every area of life and raised questions, [but] only a very pale reflection of that is available in this particular epic poem," she said.
In fact, progressive content in comic books may be waning. When Wonder Woman was first created in 1941 by psychologist William Moulton Marston, the books featured a segment on a real wonder woman from history.
After his death six years later, the profiles were replaced by monthly features on wedding customs around the globe. While Wonder Woman models the power of women working together, the comic book has not been able to recapture its early feminist underpinnings, Robinson said.
In the book's afterword, she expresses impatience with the milieu's lack of foresight into women's lives, and her hope that the today's post-modern comics may address this absence.
She writes, "The decentering of the narrative leaves room for social issues that do not involve alien attempts to destroy the universe or mind-control our heroes… What about flying through the glass ceiling? About recognizing the (non super) powers in the mass of women? What about solidarity, collective action against monsters that aren't bug-eyed?"
This is the task of the newest generation of heroines and comic book artists and writers, should they choose to live up to her challenge. This summer Robinson will sit on a panel with fellow theorists at a comic book convention in San Francisco.
Wonder Women: Feminisms and Superheroes, by Lillian S. Robinson (Routledge), $26.95, 148 pages, is available at the Concordia Bookstores.