In Memoriam
Pierre Sévigny, P.C., O.C., V.M.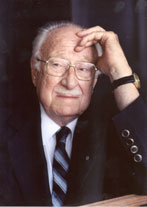 A great friend was lost to Concordia when Pierre Sévigny died on March 20. He had a long and distinguished career in the military, in politics, in international trade, as an author, and as a teacher at Concordia.
His association with the university dates back to 1967, when he began teaching in what became the John Molson School of Business (JMSB). He was an active member of the Concordia family until his death last month at 87.
One of his enduring legacies is the JMSB Awards of Distinction, an idea he put forward in 1987 to publicly honour business excellence. He was also an active fundraiser for the university.
In 2001, the JMSB paid tribute to Col. Pierre Sévigny by naming its international undergraduate scholarships in his honour. He had done a lot of work in international finance, and he had been troubled by how some international students had to struggle to get by.
Thanks to the Pierre Sévigny Undergraduate International Scholarships, the top 10 international business students have half of their fees (approximately $12,000 annually) waived.
Mr. Sévigny was touched when the scholarships were named for him, but what he really valued was that the scholarships were a way to encourage students from around the world to come to Concordia.
At his funeral, which was attended by hundreds of people from across Canada society, Albert Sévigny said that while his father always thought of himself as a soldier first and foremost.
"The last 36 of his 86 years were among the best years of his working life. He dearly loved his time at Concordia. Rarely was he happier than when he was in front of a class full of students.
"As a soldier who knew of the horrors of war, where people had to die young and before their time, he always believed that Concordia could create the men and women who could put a stop to that madness."
Dean Jerry Tomberlin said, "He was a dear friend and mentor to me personally, and to many others on the faculty. He certainly touched the lives of many of our students over the years. His passion and commitment will be sorely missed." Our sincere condolences are extended to the family. Messages can be sent to Mme Sévigny at 3495 de la Montagne, #909, Montreal H3G 2A5.
Kevin Penny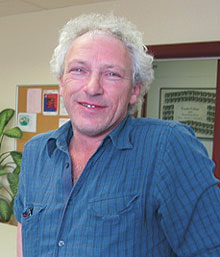 Instructional and Information Technology Services (IITS) regrets to inform the Concordia community of the accidental death of Kevin Penny.
Kevin, 47, a technician with IITS, passed away on Friday, March 19. He worked in the IITS service area at the Loyola Campus (CC Building), providing front-line customer service to faculty, students and staff.
He began working for the department in 1975 when it was known as the Computer Centre. Kevin spent several years in Operations as a computer operator, then moved to the Hall Building where he worked within the services area. In recent years, he joined the Loyola services area team.
Kevin will be greatly missed and fondly remembered by his colleagues and friends. In his memory, contributions may be made to the SPCA (www.spcamontreal.com) or the World Wildlife Fund (www.wwf.ca).