! THURSDAY REPORT ON-LINE> <! 29/04/99 Issue> <! Site Designede and Developed by: S. Mehrad B.Eng. For comments and problems contact: technical@mehrad.qc.ca> <! http://www.mehrad.qc.ca>



<! ________________________________________________________________________________>
Indo-Canadian gift marks century of Sikh presence
The Sikh Indo-Canadian community, with the help of the Chadha Family Foundation, has created a $250,000 endowment for undergraduate scholarships at Concordia.
The gift, made to Concordia through the Campaign for a New Millennium, is the result of discussions between Baljit and Roshi Chadha, who established the foundation, George Hanna, Campaign Vice-Chair, Special Gifts Division, and Economics Professor Balbir Sahni.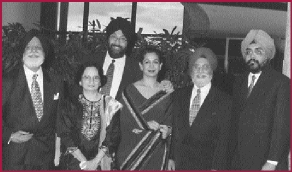 Baljit Chadha's connection to Concordia goes back 20 years, to when he was a graduate student at the University.

This gift and an identical one to McGill University were announced at a gala dinner at the Canadian Museum of Civilization on April 19 to celebrate the tricentenary of the Khalsa-Sikh faith and a century of Sikh presence in Canada.

The prime minister, several cabinet ministers and politicians of all parties attended the Ottawa dinner. Among the 750 guests was Balbir Sahni, who is also director of Concordia's Centre for International Academic Co-operation. He pronounced the event "simply splendid."

Also present at the dinner in Ottawa were Concordia alumnus Avtar Pall, the inventor of a mechanism for reducing earthquake shocks, and Finance Professor Harjeet Bhabra.

The $250,000 endowment will permit 10 scholarships, but Sahni said that the community's intention is to provide as many as 50 scholarships at universities across Canada "to encourage Indo-Canadians, visible minorities and others in their pursuit of higher education."

To encourage India-related studies at French-language universities, the Chadha Foundation has recently begun to provide seed money to individual scholars at the Université de Montréal and the Université du Québec ą Montréal.

Sahni was interviewed last week on CFCF television's Montreal Today about the Concordia and McGill endowments and their significance. He said that the scholarship endowment represents an acknowledgement of the important role Sikhs have come to play in Canadian society.

There are about 300,000 Sikhs in Canada, including three Members of Parliament and an especially large community in British Columbia. Canada Post has recognized the Sikh contribution to Canada with a special postage stamp, which was unveiled at the dinner by Prime Minister Jean Chrétien.

A bit of background about Sikhism: The Sikh faith began in the 15th century in Punjab, India. Its adherents denounced the caste system, the immolation of widows, idol worship and the power of priests.

In 1699, a Sikh guru began the Khalsa tradition, which embraces a set of distinctive symbols for men: long hair, covered at all times by a turban; a comb; a steel bracelet; and a ceremonial sword.

- BB




Photo: Seen at the gala dinner in Ottawa are, left to right, Professor Balbir Sahni, Tripet Pall, Baljit Chadha, Roshi Chadha, Dr. Avtar Pall, and Professor Harjeet Bhabra.

<! _______________________________________________________________________________>




Copyright 1999 Concordia's Thursday Report.