! THURSDAY REPORT ON-LINE> <! 29/04/99 Issue> <! Site Designede and Developed by: S. Mehrad B.Eng. For comments and problems contact: technical@mehrad.qc.ca> <! http://www.mehrad.qc.ca>



<! ________________________________________________________________________________>
Concordia or McGill for grad school?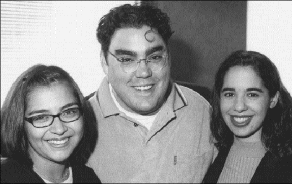 Carmela Melidona (right) won a trip to Florida donated by Voyages Norko International Travel, and Maria Pia Aguilera-Salas and Angel Emmanuel Rodriguez won $100 vouchers from the Concordia Bookstores. Scott Tabachnick, who couldn't attend the presentation, won a Bookstore voucher worth $250.
The average aspiring graduate student at Concordia is an English-speaking woman aged 18 to 24 who got her undergraduate degree here. She lives with her parents, earns less than $10,000 a year, mainly from a part-time job, and is as likely to attend classes at night as in the daytime.
Of course, there are many others who don't fit that description, but that's the majority profile that can be drawn from a survey of this year's graduating class. Nearly half of the 2,600 students who were sent questionnaires responded to the survey, thanks to an incentive in the form of a draw for a trip to Florida. (See winners, this page.) Many also said they appreciated the opportunity to express their views.
Concordia's Marketing and Institutional Communications Committee (MICC) commissioned the survey from a professional polling firm to get a fix on how to encourage students to choose Concordia for their graduate studies. Since most of our current graduate students took their undergraduate degrees here, it made sense to start with this year's graduating class.
Half of the 1,169 respondents aren't going on in school, but the other half said they are considering, or are definitely intending, to take a graduate program, mainly to get a better job. The most popular disciplines are commerce, the social sciences, administration and education.
A relatively small number are considering Concordia only. McGill University is Concordia's main rival, because a major consideration is that both schools are close to home. Concordia was the most popular choice of graduate school (72 per cent), followed by McGill (58 per cent).
Another major factor in choosing a graduate school is the reputation of a given program or professor. This, the survey shows, counts for more than the reputation of the institution as a whole.
John Garwood, of JPG Consultants, said that in terms of specific programs, the respondents "didn't see Concordia and McGill as being very different." However, they did see the overall reputation of McGill as being higher than that of Concordia.
The University of Toronto attracted some students' interest, followed by the University of Ottawa and the Universitˇ de Montrˇal.
The results confirm much of what is already known, but they also point to some good selling points for Concordia administrators. For example, the students who are considering Concordia only are more likely to want to study part-time. They also perceive Concordia as having smaller departments and smaller classes than McGill, and they approve of that.
Interestingly, the students cited professors as their primary source of information about graduate school (whether for good or ill was not specified).
The survey results were presented to the Marketing and Institutional Communications Committee and administrators of the School of Graduate Studies.
- BB <! _______________________________________________________________________________>



Copyright 1999 Concordia's Thursday Report.