! THURSDAY REPORT ON-LINE> <! 29/04/99 Issue> <! Site Designede and Developed by: S. Mehrad B.Eng. For comments and problems contact: technical@mehrad.qc.ca> <! http://www.mehrad.qc.ca>



<! ________________________________________________________________________________>
Multidisciplinary art program draws applicants from around the world
Art students attracted to creativity's outer edge
by Barbara Black
---
Valerio Marques has a business degree from his native Brazil, but he has turned his back on the business world to pursue a brand of art that is barely known to the average person.
Marques is one of a select handful of students who have come from other parts of Canada and the world to join the Interdisciplinary Studies Ð Video program in the Studio Arts Department of Fine Arts.
Professors Tim Clark and Leila Suijir interview as many as 85 applicants a year for a maximum of 20 places. "We look for good students who are unwilling to fit into established categories," Clark cheerfully admitted. These students are already working on their art, and they have probably researched Clark as much as he is studying them.
Once in the program, the students undertake ambitious projects with their own self-designed combinations of visual and performance media. Works may include photography, fibres, print, digital art, interactive computer work, poetry, voice, electroacoustic music, dance and theatre.
"It's a very unusual program, especially in North America," Clark said. However, he recalled that interdisciplinary art goes back at least 200 years. In the late 18th century, the German Romantic artist Philip Otto Runge proposed a "total work of art" that would bring together music, architecture and painting.
Other precedents are the avant-garde theatre work produced in late-19th-century Munich by Wassily Kandinsky, and the "read ymades" of Marcel Duchamp. "Most people know Kandinsky's paintings, but they don't realize that he wrote an opera named The Yellow Sound, for which he also designed the stage sets and costumes."
Art students soak up influences from everything around them, Clark said. "A lot of them are into DJ music, activity house music, drum and beat, theatre, street-level performance work, zines, computers and activist art practices." Suijir and Clark give them guidance when they need it, helping them fashion a cluster of courses appropriate to the project to their evolving interests.
The students showed off their work this month at a series of performances and an art show. One of the performances, which Clark described as "stunning," featured Karen Guttman dancing in a Petrushka-like rag-doll manner in front of a video of a woman in a tennis court. Guttman's mouth was stuffed with flowers, and she was trying to talk about a man she had known. The effect, as Clark recalled it, was both elegant and poignant.
Another project, by Allison Leyton-Brown, was a fully realized play called The Waiting Room, which had three performances in the Belgo Building. It had a seven-member cast, with video, dance and sound, and a professional-looking printed program. The local alternative press remarked on its innovative interaction with the audience.
Clark came to Concordia two years ago with an appropriately checkered background for the program he now oversees; he has degrees in philosophy, the visual arts and art history. Influenced by the work of Fluxus and conceptual artists, and the philosophical work of Ludwig Wittgenstein and Michel Foucault, he wrote his art history thesis on Foucault's influence on Canadian critical writing.
Although he admits that not all art teachers agree, he likes teaching art in the academic context of a university, where his students can dip into other subjects that give depth to their work.
It reflects a movement that began as far back as the Renaissance, when artists began to move away from medieval workshop practices. Since the 1950s, the influence of post-war French and German philosophers has been particularly strong on artists from cultural groups that traditionally had been marginalized or ignored.
The students in the Interdisciplinary Studies video program have to be particularly strong-minded, Clark said. "They need social and institutional skills as well as academic skills," he said. "They have to talk their way into courses with quotas that might exclude them. In a way, it's like a training program for a career in the arts."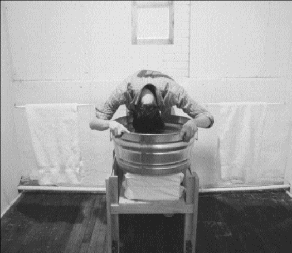 Photo: An Ocean of Sound, by Interdisciplinary Studies student Jonathan Inksetter. The work is performance/installation.

<! _______________________________________________________________________________>




Copyright 1999 Concordia's Thursday Report.