Conference celebrates writing for the love of language, freedom
Femmes de lettres et le français hors frontières
by Evelyne Abitbol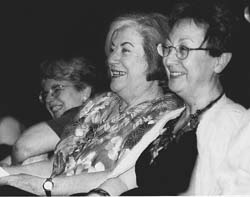 Professor Maïr Verthuy at the conference, flanked by Professors Annette Hayward, of Queen's University, and Françoise Ligier, of Concordia.




Le colloque Femmes de lettres et le français hors frontière, en hommage à Maïr Verthuy, directrice-fondatrice de l'Institut Simone de Beauvoir, a accueilli des femmes de lettres d'un peu partout et quelques hommes d'ici comme Howard Scott et Paul Bandia. Bien peu de présence masculine, mais un vif succès dans les échanges.

Elles étaient presque une centaine. Toutes ont rendu un chaleureux et touchant hommage, pardon "femmage," expression lancée par Lucie Lequin, directrice du Département d'études françaises, à Maïr Verthuy, qui a su influencer leur parcours d'une manière ou d'une autre.

Des illusions aux espoirs, de la tradition à la modernité, toutes ont échangé sur le fait d'apprivoiser soit l'horreur au quotidien, comme les femmes algériennes, soit le bonheur d'écrire. Tout simplement.

L'écriture au féminin semble empreinte d'une soif de liberté absolue: écrire comme si l'on n'avait plus rien à perdre... de cette sincérité absolue qui arrive lorsque l'on a vécu l'exil, un drame intérieur ou une peine d'amour...

Cette quête identitaire de l'écriture au féminin ressemble étrangement à l'exil et à l'identification même d'un exil intérieur. Le fil d'Ariane du colloque: L'écriture comme un palliatif à une reconnaissance.



Copyright 1998 Thursday Report. For technical comments please e-mail&nbsp&nbsp&nbspWebmaster