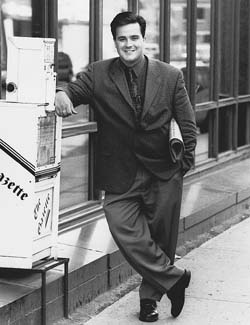 Geoff Baker's jubilant mood was in stark contrast to the dingy diner he found himself in for a breakfast interview recently. The 29-year-old Journalism 201 instructor, who is also a reporter at The Gazette, had two good reasons to be upbeat. He just married his university sweetheart, and he just won his second National Newspaper Award.
Baker was modest about winning the award, saying he was shocked to win it again. His first award was in 1995 for spot or general news coverage, while this one was in the sports-writing category for his coverage of the Montreal Alouettes football team.
"This has been a lucky year for me," he said between bites of his bacon and eggs.
But Professor Enn Raudsepp, Director of Concordia's Journalism Department, would beg to differ. "None of what he has achieved has been by luck," he said over the phone. "I've seen him in action, and he has never stood still. Geoff paid his dues and was rewarded for his hard work and skill."
Dave Stubbs, The Gazette's sports editor, agreed. "There was no reason to be surprised that he won again," he said. "Geoff has a terrific future ahead of him."
Baker joined The Gazette after graduating from Concordia's Journalism program in 1991. A sports buff, he had planned on becoming a professional football player, but five operations on a bad knee nixed that, so he decided to put his writing skills to use.
He was hired by Montreal's English-language daily thanks to a thick portfolio of freelance writing for community and university newspapers that he started when he was 17. He also worked as a reporter for a community TV station until he "cured" himself of a desire to become a television news anchor.
Even before he hired Baker as a part-time instructor three years ago, Raudsepp used to call him in to give inspirational talks to students.
Baker said he isn't about to take himself too seriously. Although he is on The Gazette's business desk now, he plans to return eventually to sports writing.
"I still have a lot to prove," he said. "I always tell my students that [journalism] is not a sprint, it's a marathon, filled with highs and lows. You have to be in it for the long haul."
Gazette columnist Josh Freed, who has lectured here, also won a National Newspaper Award this year. Among those nominated were Gazette investigative reporters William Marsden, who has spoken to Journalism classes, and Rod Macdonell, who has lectured for several years, plus alumnus Mike Shahin, who works for the Ottawa Citizen.