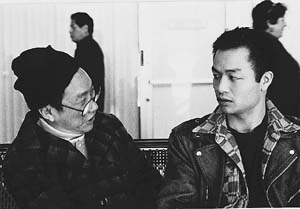 The popular annual screening of Concordia student films took place this year at a downtown cinema, bringing in better audiences than ever. From May 6 to 8, the films were screened at the Rialto, a former repertory house that now specializes in Indian cinema.
Third-year Film Production student Tara DeSimone explained that so many editing hours were lost during the ice storm that the screening was postponed by a week, making the Henry F. Hall Building inaccessible. "The Rialto was a perfect alternative."
Co-organizer and fellow third-year student Tod Van Dyk agreed. "The Rialto is the oldest, and, I think, the most beautiful movie house in town," he said.
It was a fitting celebration of the 25th anniversary of the Cinema Department, now known as the Mel Hoppenheim School of Cinema, and a chance to throw what Van Dyk called "a bit of a party in a chic environment."
While past screenings have been resounding successes, DeSimone admitted that they were attended largely by film students and their loved ones. "We're getting a much wider audience than in previous years," she said.
"The appeal of this format is that you get to see maybe 20 films in a night, all very different. If you don't like the one that's on now, you can just wait a couple of minutes and the next one will be on soon."
What kind of movie-goer chooses an eclectic collection of student films over the latest summer blockbuster? "People who are interested in the arts," Van Dyk said, "and in finding out what the younger generation has to say about society. Some of the films might be a little strange for the average movie-goer, but they challenge audiences to look at cinema in new ways."
"I saw a lot of films here which I otherwise wouldn't get to see on the big screen," said third-year student Jim Hoffman, an avid Rialto fan when the theatre was a rep house. "A screening of student films is certainly in the same vein. After this, people will only get to see them at film festivals."
Hoffman appreciates knowing that his film, Homonculous Chuck, was not only seen on the big screen, but enjoyed by an audience who showed up expecting to be entertained.
"My film was screened yesterday, and there was a surprising amount of cheering which didn't come from my entourage of friends and family. I was thrilled because I knew there were a lot of cinephiles in the audience who have nothing to do with the cinema school."
Hoffman is convinced that student films can have mass appeal. "I'm hard-pressed to see student films as so much different from other short films. I'm impressed by the professionalism and originality of most of the films I've seen here. If there were more venues for short films, I think audiences would want to see them more often."
Third-year student Russell Bennett, whose film Tender was screened on the second day, said their greatest strength is their lack of commercial constraints. "We want to learn how to make films that are marketable, and we want to acquire the technical skills, but as students, we can make films which don't have to make money. We only have to please ourselves, and maybe a few people who appreciate innovation and experimentation."
One of the most respected of the professors teaching such skills, André Herman, was honoured by the students on awards night. Several speakers paid homage to Herman, who founded the Film Production program.
As an encore, the Mel Hoppenheim School of Cinema is presenting the Concordia Animation Festival tonight at 7:30 p.m. at the Imperial Cinema, 1432 de Bleury. Admission is free.