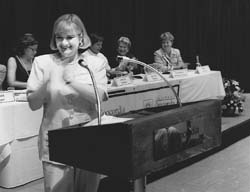 Associate Dean of Commerce and Administration Danielle Morin thanks the panelists at the Women and Work symposium. Behind her are Pierrette Sévigny, Jennifer Patton, Constance Middleton-Hope and Marie Lacroix.
Diane Oliver admitted that she wasn't popular with her employees after she was hired at Chanel "to make changes." Oliver, vice-president of marketing at Chanel Inc., told an audience at the Women and Work Symposium on May 7 that her employees were afraid of her.
"I began to perceive a high level of anxiety among them when they had to deal with me," she said. "They would emerge from my office in tears. And they would hide their mistakes because they were afraid I'd fire them."
Oliver was one of six influential women who addressed the issue of leadership and power at the fifth annual symposium, organized by Concordia's management faculty.
The other participants were Superior Court of Quebec judge Pierrette Sévigny, Jennifer Patton, vice-president of Kadora Investments Ltd., Alliance Quebec president Constance Middleton-Hope, Marie Lacroix, vice-president and area manager of the Montreal Downtown Retail Centre of the Royal Bank and Janyne Hodder, principal of Bishop's University, in Lennoxville.
The purpose of the symposium, which drew an audience of 300, is to permit women who have made a mark in the workplace to discuss their journey to success.
Diane Oliver stopped short of telling the audience how she changed her management style from that of an autocrat to one of a team builder, but she added that "leading and commanding are two different sets of skills. To lead, you have to get excited and be passionate to inspire people. They need to trust you."
Audience members who were poised to hear hard-hitting testimonials about seizing power may have been surprised at Janyne Hodder's ambivalence about it.
Hodder said she had struggled as a single mother to juggle work, graduate school and parenting. "And I certainly wasn't thinking about leadership and power then." She said she prefers the notions of responsibility, commitment and value.
"It's dangerous to talk about leadership and power without talking about purpose. We have no need for leaders for whom power is an end in itself."
Like Hodder, Constance Middleton-Hope, who is currently campaigning for the leadership of Alliance Quebec, discussed a particularly female view of power and leadership.
"I like to think of power in terms of change," she said. "Working in the church, I've learned to sit in a circle and listen to how power is used and exercised in a circle. We have much to learn from aboriginal people, who exercise power that way."
Middleton-Hope discussed her checkered career -- from journalism and public relations in the 1950s to various jobs in education after a return to university to complete a Master's degree.
As a stay-at-home mother in the '50s, Middleton-Hope had decided to set up a translation business in her home and approached her bank for a loan of $1,200. "They wouldn't give it to me unless my husband co-signed for it," she said.
Years later, while setting up a shelter for homeless women, Middleton-Hope said she had to approach another bank for a $100,000 loan.
"The bank manager looked shocked," she said. "But my instinct told me we had the power of persuasion. I hope my own legacy is that I have empowered others," she said.
Pierrette Sévigny described how she has assumed leadership throughout her life by accomplishing the unexpected.
Women were a minority in McGill's law school when Sévigny finished her studies there in 1973. "Of 160 students in my law class, 16 of us were women," she said. "Seventy-five of us ended up graduating, including all 16 women."