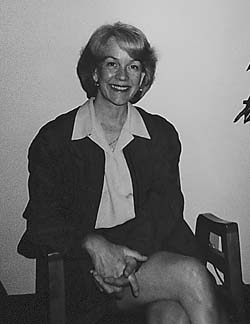 Maureen Sterling
Accountancy Professor Maureen Sterling marked her first year at Concordia with an award for the best PhD dissertation of 1996-97 from the Administrative Sciences Association of Canada.
It was a study of how a big Toronto teaching hospital wrestled with the challenge of chopping $40 million from its budget -- 20 per cent -- without reducing safety or effective care.
"I got the award because I was able to show that ethics and efficiency aren't mutually exclusive in management accounting," Sterling said.
"What does anyone expect from a hospital? That they not harm us when we're at our most vulnerable. And all the activities at a hospital, the things that cost money, are there to ensure our safe recovery." That made Ontario premier Mike Harris's cuts to health care tough to take. And in the world of hospital care, failure isn't an option.
She chose a hospital with "the best accounting information system in the country. And even at that, my dissertation shows how hard it was to do the job."
Before she went to Queen's University for her doctorate, Sterling had a full career as an investment analyst in Toronto, in the Calgary oil patch, and finally as a forensic accountant at the notoriously lively Vancouver Stock Exchange. A downsizing severance package, she admits candidly, helped pay for her PhD.
She's bullish on Montreal, and particularly on Concordia.
"It's a fabulous place to be!" she exclaimed. "I've spent a lot of time in universities across the country as a student and then as a teacher, and the students here are the best.
"The students are responsive, willing to work, and very respectful. They understand how important the degree is, and they don't feel entitled to it without hard work. I feel I'm making a genuine contribution, helping them realize their ambitions and dreams for success.
"And their diversity gives them a competitive edge in the marketplace because they have already learned how to get along with people in many cultures."
Sterling has been teaching both introductory management accounting and final-year financial accounting theory courses. She enjoys the theory course because it deals with how important accounting is to the fair and efficient functioning of the economy.