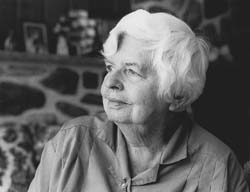 During the 1930s, Jadwiga Krupski was a freelance journalist and 21-year-old welfare inspector in Poland. In 1963, she became an early French-immersion teacher at a Montreal elementary school. At the age of 65, she began another teaching career as a lecturer in Concordia's English Department.
For Krupski, who is retiring this spring at 83, life is like literature, "a continuum of perceptions, with one nucleus of ideas or experiences drawing inspiration from, or maybe opposing, the previous one."
When German forces invaded Poland in 1939, she was in the Polish army, and with her fiancé, George, fled to neutral Hungary. He went on to join the Polish army in France, but she stayed as an interpreter. Her knowledge of several languages likely saved her life.
"I was desperate to reunite with George, so I pestered the French consulate, in French, for permission to enter their country, and Hungarian officials, in German, their second language, for an exit visa.
"The Hungarian clerk yelled at me, 'All you Poles want to go to France! How stupid! Why don't you stay here?' Then, very softly, he added, 'Do you speak Spanish?' I said, 'No, but I have a smattering of Italian, so I'll understand you.' So he continued, in Spanish, 'Come back at 4 o'clock and I'll issue your exit visa.' "
In France, she and George married. "We figured it would be an easy war. We'd spend holidays together, and, after all, there was the Maginot Line to keep the Germans at bay." Fortunately, before that fortification fell, George had joined Britain's air force, and Krupski had joined him in England. There, and later, in Canada, she developed a deep love for Shakespeare and other English classics.
At 79, she got her doctorate in English literature at McGill. Her dissertation, Shakespeare's Children, focuses on the idea that Shakespeare perceived the prejudices of his time, and opposed them in his plays.
"Childhood was perceived as a kind of disease," she explained. "Children were frequently abused and made to appear or to conduct themselves as little adults. However, in several of Shakespeare's plays, this treatment is subtly challenged."
Krupski's retirement may include writing about her life. In fact, she is trying to decide whether to write her memoirs or make them the material of a novel.