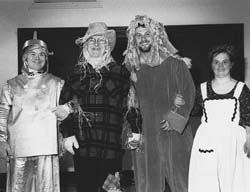 The Tin Man (Stephen Denham), the Scarecrow (Robert Chubb), the Cowardly Lion (Chris Verreault) and Dorothy (Shelagh Culley) are ready to welcome you to their performance of The Winds of Oz on June 4.
The Winds of Oz, a lively example of the therapeutic value of music and drama, is being revived on the stage of the F.C. Smith Auditorium.
The original musical, which was a great success last spring, features intellectually handicapped clients of Concordia's Centre for the Arts in Human Development.
The students working on the show are from the Theatre Department and the Creative Arts Therapies graduate program. The social agency Les Promotions Sociales Taylor-Thibodeau is also involved in the production, as is Concordia's Education Department.
There will be only one performance, on the evening of June 4, but thanks to a generous grant from the Fondation Québécoise de la Déficience intellectuelle, it promises to be a feast for the ear and the eye.
Professor Stephen Snow, the Centre's Director, said that every bit of the F.C. Smith venue is being used to show the creativity of the 21 participating clients, including a display of artwork supervised by the Art Therapy graduate program. In addition, a documentary video is being made about the unusual production.
Snow said that The Winds of Oz was inspired not so much by the Frank Baum classic The Wizard of Oz, as by a sequel which Baum also took to the New York stage, in which the Scarecrow and the Tin Man are monarchs of imaginary kingdoms.
Tickets are $10 each, but the performance is also a fundraiser. Friends of the Centre can buy a patron's ticket for $25, which includes a chance to mingle with the "stars" after the show.
The Winds of Oz will be presented on Thursday, June 4, at 8 p.m. in the F.C. Smith Auditorium, 7141 Sherbrooke St. W. (Loyola Campus). For tickets, call Diane Dumontier, 761-5571, #237. Patrons should address cheques to the Taylor-Birks Foundation, c/o Lenore Vosberg, 7100 Champlain Blvd., Verdun, Quebec, H4H 1A8.