! THURSDAY REPORT ON-LINE> <! 28/01/99 Issue> <! Site Designede and DevelopedBy: S. Mehrad B.Eng. For comments and problems contact: technical@mehrad.qc.ca> <! http://www.mehrad.qc.ca>


<! ________________________________________________________________________________>
Research centre, distance and executive options, even an undergraduate program are on the flight plan
International Aviation MBA has ambitions
by Barbara Black
---
IATA director Pierre Jeanniot and Rector Frederick Lowy teamed up with twin scissors to cut the ribbon on the new IAMBA facilities last week.
Fittingly, they then also cut the ribbon electronically, just by touching a big screen facing the classroom. The touch-sensitive computer monitor, slick and richly coloured, is one of the glamorous tools that make up this 21st-century classroom on the fourth floor of the GM Building. Another is the computer plug at each desk, ready to connect with a student's laptop.
The classroom refit is part of the Faculty of Commerce and Administration's ambitious plans for the self-financing IAMBA program, which started eight years ago with the encouragement of IATA, the International Aviation Transport Association.
The presence of IATA and ICAO (the International Civil Aviation Organization) has long ensured Montreal a global role in aviation administration, and it seemed natural to add an educational presence for airport, air transport and other aviation managers.
However, as Jeanniot himself admitted in his brief remarks at the ceremony, the program was for the first few years "a fragile child." The aviation industry has gone through a tumultuous decade, due to deregulation, the privatization of formerly public carriers, and intense global competition. As a result, the training of management got low priority among the world's harried airlines.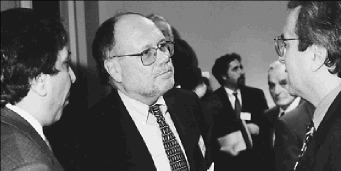 However, as IAMBA Director Professor Dale Doreen told his audience at the ceremony, that is changing. The need for highly trained aviation managers has become acute, and the emphasis is finally changing from sector-specific, technical, operations-based training to education with a management focus that embraces all aspects of the industry. The IAMBA program has been designed to provide this.
There is also an urgent need for international educational standards and pedagogical materials, not to mention professors. Doreen hopes to establish a Centre for Aviation Management Education and Research to fill this vacuum.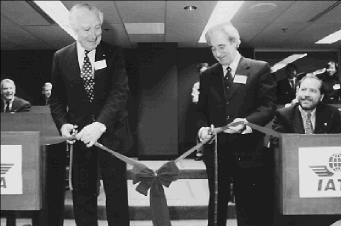 In addition, an executive option has been developed for local students who want to combine their studies with their full-time jobs, and a Global AMBA will deliver the program through distance education. The GAMBA program is expected to have its first two courses up and running by next September.
The Faculty is also discussing the feasibility of offering an undergraduate program in aviation management. <! _______________________________________________________________________________>

Copyright 1998 Concordia's Thursday Report.