! THURSDAY REPORT ON-LINE> <! 28/01/99 Issue> <! Site Designede and DevelopedBy: S. Mehrad B.Eng. For comments and problems contact: technical@mehrad.qc.ca> <! http://www.mehrad.qc.ca>


<! ________________________________________________________________________________>
Centre for Instructional Technology opens in Commerce and Administration
Smartboards for smarter, more efficient learning
by Sylvain Comeau
---
Commerce and Administration is a Faculty on a high-tech mission.
Two years ago, Commerce quietly drafted its Strategic Academic Plan 1998-2000, a strategy designed to help the Faculty compete with technology-oriented educational providers. Item number one, "the move from teaching to learning," entailed an ambitious technological upgrade.
"We're moving forward, although we're a little behind schedule," said Dennis Dicks in an interview. Dicks, a professor of Educational Technology in Arts and Science, is also the director of the Centre for Instructional Technology, which develops technology for Commerce.
In fact, the first plank of item number one, implementing a laptop university operation in the IAMBA (International Aviation MBA) and EMBA (Executive MBA) facilities, has already been accomplished (see story, above). Several units, including Instructional and Information Technology Services, the Vice-Rector Services Office and Bookstores, worked with the Faculty to develop the snazzy new facilities.
Professors will use "smartboards," a kind of electronic blackboard that saves things written on them on a hard disk; students can then download the information on their laptops. Students will use "groupware" to communicate with one another, and to access the internet.
"This changes the way you can teach," Dicks said. "You don't have to make sure that the students have printed copies of materials beforehand. You don't have to worry about them taking notes; you can send them information you project on the smartboard through the network. So the professor can spend a lot more class time interacting with the students."
The classes are also equipped with videoconferencing technology, so that a guest lecturer could speak to the class and answer questions in real time, even from thousands of miles away.
"These teaching facilities are a model of the electronic or intelligent classroom. They're also prototypes that will allow us to experiment with these concepts, and help us decide whether or not we want to build more of these classrooms."
Dicks notes that the University is planning to upgrade several classrooms for multimedia applications. "Our experience with these types of facilities should be of some benefit to people planning that large undertaking, so this is a pilot project for Concordia in the area of intelligent classrooms."
In mid-February, the Faculty will also launch their Learning Clinic, a facility equipped with workstations, a smartboard, and a state-of-the-art multimedia production room.
"The Learning Clinic is a drop-in centre, where faculty can come and learn about new multimedia technology. They can experiment with these technologies to produce course material, and practise teaching with them. The Clinic will also be used as a training facility for faculty and staff."
Distance education is another plank in the academic plan. In September, the Faculty is launching a distance-ed version of the entire IAMBA program, which is attended mostly by professionals in the airline industry.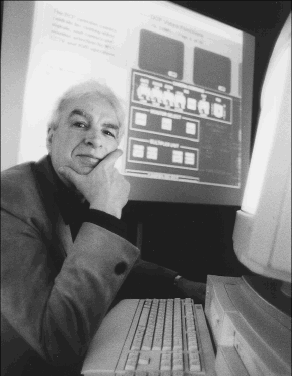 "We believe that there is a potential world market for this kind of program; in airlines, airports, airplane manufacturers, and so on, but currently, students have to come to us to take the program, and take a year off work. The plan is to reach people where they are, in their homes and workplaces."
The Faculty is also developing a Web-based course on personal finance that would be accessible to students in Commerce and other Faculties.
Dennis Dicks (right) works with Ida Giannelli, Gervais de Montbrun, Steve Assaf, Pierre LaPorte, Mary Genova, Carol Acton, Mary Waterhouse and Brian Hawker at the Centre for Instructional Technology. <! _______________________________________________________________________________>

Copyright 1998 Concordia's Thursday Report.