! THURSDAY REPORT ON-LINE> <! 28/01/99 Issue> <! Site Designede and DevelopedBy: S. Mehrad B.Eng. For comments and problems contact: technical@mehrad.qc.ca> <! http://www.mehrad.qc.ca>


<! ________________________________________________________________________________>
Few dance programs offer such freedom, exposure to the latest trends
Dance students are right out there
by Sylvain-Jacques
Desjardins
---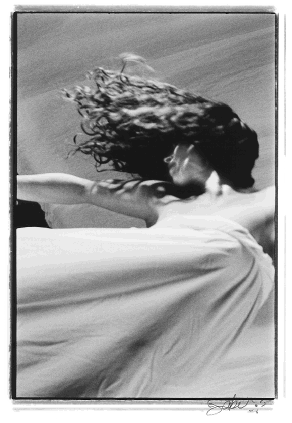 As she danced on a sand-covered stage at the Open House, Annick Brisindi seemed to personify the originality and daring of Concordia's Contemporary Dance students.
The three-day event, held in December and April every year to showcase student talent, was attended last month by some 300 people, all of whom came to sample what's new in the constantly evolving world of dance.
"Few programs allow their students as much latitude as Concordia," said Brisindi, a third-year student, reflecting on her self-choreographed segment.
Her solo creation was one of 32 pieces presented by about 50 students. They were given but one requirement; that they use sound. In Brisindi's case, sound came in the form of sand falling above her head and a guitarist who accompanied her as she moved on and around a wooden bench.
She has learned about everything, from lighting to choreographing shows. "Students essentially have carte blanche to do whatever they want right from their first year," she said. "To be allowed to create this freely gives them experience that will, hopefully, give them a foot in the door."
Michael Montanaro, an assistant Dance professor, was Open House production director. He said that Concordia dance shows are well attended because they offer insight on emerging trends.
"There's a lot of freshness in the students' choreography," he said. "These shows offer the public a chance to see what's on the horizon, to see the next generation of choreographers."
Montanaro said Montreal is widely regarded as the North American capital of contemporary or new dance, with popular troupes like La La La Human Steps and Carbone 14 and well-known alumni like Zelma Badu, Jeff Hall and Pierre-Paul Savoie. When a Montreal dance company sends a show proposal to another country with a Quebec postmark, "the envelope goes to the top of the pile for consideration."
The term contemporary dance describes a bold, sometimes brave, choreography that emerged in the late 1970s, allowing dancers to move in whatever way inspires them, expressing freedom of body, thought and speech. The movement is so popular here that remarkably in North America, a dozen new dance companies are founded every year.
Silvy Panet-Raymond, Chair of the Contemporary Dance Department, said Montreal came to be the hub of creativity in new dance because the city is not under the influence of "great dance masters" who lead the movement in places like New York. "This has given us an innocence and irreverence that has allowed dancers to act like pioneers," she said. "This liberty has produced an energetic scene, and allowed dancers to ignore conventional norms and be more versatile."
Panet-Raymond concedes that even with Montreal's burgeoning dance scene, obtaining work is a tough slog. In fact, all those new dance troupes are formed by dancers to create their own employment. "Then again, it's hard for any artist to find work," she said, "since our society -- unlike parts of Europe -- does not support and recognize its artists as much as it should."
For Brisindi, the prospect of a tough job search straight out of university is not frightening. "When you go into dance, you know you're not going to find stable work, the way an engineer does," she said. "You must be prepared to look for quite a while before you can make your mark. It's just part of the choice."
Concordia's Contemporary Dance Department will hold auditions for the fall term on April 17, May 1 and August 14. For more information, call 848-4740. <! _______________________________________________________________________________>

Copyright 1998 Concordia's Thursday Report.