! THURSDAY REPORT ON-LINE> <! 28/01/99 Issue> <! Site Designede and DevelopedBy: S. Mehrad B.Eng. For comments and problems contact: technical@mehrad.qc.ca> <! http://www.mehrad.qc.ca>


<! ________________________________________________________________________________>
Claude Jacob takes aim with literary journal
by Adrienne Baker
---
Claude Jacob is a young man with an intense passion for literature, and the ability to make things happen.
A second-year Philosophy and Creative Writing major, Jacob is the founder of the Concordia Literary Association, the editor of a new literary magazine,and the producer of a series of literary readings and jazz concerts.
"It's easy to do these things," he said in an interview. "This is my passion."
Jacob thrives on the energy of the local arts community. When he finished high school in his native Vancouver, he decided to travel around the world, and chose Montreal as his first stop. By the time he had spent the summer here, he had fallen in love with the city and enrolled at Concordia.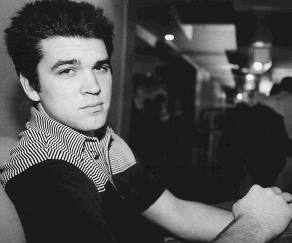 Jacob loves to hear writers read their work, and appreciates the way language, art, and music come together. This passion is what inspired Claude to create a series of literary/jazz soirées called BARD.

When he started at Concordia, he was working nights as a security guard, and was unable to attend most literary events. "I couldn't go out a lot, so I decided to invent my own night life."

BARD, which stands for nothing in particular, has been running for several years now, usually at Reggie's Pub, in the Henry F. Hall Building. There is always a jazz band, and anyone is invited to come and read their work. "The idea is to let the more undiscovered writers read their stuff."

Jacob is busier than ever this year. He founded the Concordia Literary Association, and started a literary magazine called Slingshot.

"The idea was to allow students to get practical experience for the future, and get young writers interested in literary magazines -- let them know there is this literary world out there." After all, he added, "UBC and all the big universities have student literary magazines, but Concordia, with the best creative writing program in the country, doesn't."

In March, Jacob plans to send copies of the first issue of Slingshot to high schools across Canada; he's contacting school librarians one by one, starting with his native West Coast. Jacob plans to give the magazine a hip, flashy look, and include art, Japanese-style animation, and interviews with musicians. "We're going to talk about lyrics, because lyrics are a form of poetry, after all."

Jacob has ambitious plans for Slingshot. The magazine, which, as part of the Literary Association is funded by the Concordia Student Union, will be published three times a year, with submissions by artists and writers from around the world. He even promises big launch parties in Montreal, Toronto and Ottawa.

Jacob is also involved with Matrix magazine, the literary magazine edited in Concordia's Creative Writing unit. He works as a publicist for DC Books, puts together a monthly arts calendar for Hour, and is organizing a cross-Canada tour for a group of young writers.

On top of this, he's finishing his own book, which he described as "epic haiku," 10-line poems about a character travelling, in actuality or in fantasy, around the world. When asked how he can possibly find the time, he said, "It's really not that hard. I look at the world simply. I just love what I'm doing."

 

<! _______________________________________________________________________________>


Copyright 1998 Concordia's Thursday Report.