! THURSDAY REPORT ON-LINE> <! 28/01/99 Issue> <! Site Designede and DevelopedBy: S. Mehrad B.Eng. For comments and problems contact: technical@mehrad.qc.ca> <! http://www.mehrad.qc.ca>


<! ________________________________________________________________________________>
Hoping for bronze, Concordia Commerce Games team wins silver
Course designed to produce winners pays off
by Jane R. Davenport
---
Months of hard work paid off for 77 Commerce students at the 1999 University Commerce Games, as Concordia won medals in eight out of 10 academic events and finished second in the final standings, after the École des Hautes Études Commerciales.
"We knew we had a really good team, but you never know how people are going to perform under pressure," said Mathieu Ouellet, president of the Commerce Games organizing committee. "In the end, everyone reacted perfectly."
Held at Université du Québec à Hull from January 14-16 this year, the Games annually bring together students from 12 universities in what Ouellet called "the most prestigious business competition in Eastern Canada."
The events are mainly academic; Concordia traditionally excels in international business, marketing and debating. There are also a "wacky sports" component and a social events category.
Ouellet and organizing committee vice-president Darrin Rowsell, both fourth-year students, attributed Concordia's success this year to a new course designed to prepare the team for the Games. "We had top-quality students," Ouellet said. "What was missing was a structured way of preparing the team."
Taught by part-time marketing professor Mark Haber, the course required the 27 academic team members to spend three hours a week presenting cases to an audience of professors and corporate executives, who critiqued their performances.
The course, which lasted a full semester, was a trial by fire for the students, Haber said. "I told them, 'You're the cream of Concordia Commerce. You're going to learn a hell of a lot, and have a hell of a lot of fun.' Those kids worked their tails off," he added. "I'm really proud."
Ouellet and Rowsell agreed the course is one of the most gruelling experiences they've been through. "You put the 27 best Commerce students in a room and say to them, 'You can do better. You just have to check your ego at the door.'"
Chad Humeniuk, 23, completed his graduation requirements in December, but remained at Concordia just to compete in the Commerce Games. As captain of the three-member international business team, Humeniuk said the course helped him prepare for one of the toughest challenges of his life.
"We were a less confident team," he said. "We struggled in the course; we were surrounded by students who were strong presenters and academics, and we didn't have the feeling of being in the same league as everyone else. We were hoping for third."
However, at the Games, the 12-page, double-spaced case the team got for analysis paled in comparison to the 20-page, single-spaced cases they had worked with in class. During the awards ceremony, Humeniuk's team went from the depths of despair when their names weren't called for the bronze medal to "the absolute best feeling of your life, in the matter of a sentence," when they were awarded gold.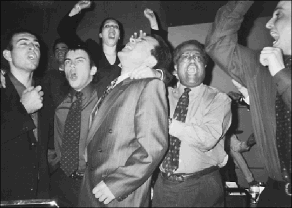 Concordia also took gold in the finance, debate, and entrepreneurship events. Silver medals went to the human resource management, production and operations management and management of information systems teams. The taxation team won bronze. In the sporting events, a bronze medal went to the Kin-Ball team.
Moment of jubilation as our team learns Concordia came in second.
<! _______________________________________________________________________________>

Copyright 1998 Concordia's Thursday Report.