! THURSDAY REPORT ON-LINE> <! 28/01/99 Issue> <! Site Designede and DevelopedBy: S. Mehrad B.Eng. For comments and problems contact: technical@mehrad.qc.ca> <! http://www.mehrad.qc.ca>


<! ________________________________________________________________________________>
Ellington's 100th birthday will be celebrated at the Spectrum
Andrew Homzy pays tribute to the Duke
by Paul Serralheiro
---
Edward Kennedy "Duke" Ellington's 100th birthday will be celebrated around the world on April 29. Concordia Music Professor Andrew Homzy will be part of that celebration, presenting papers at conferences in Italy and the United States, and conducting an anniversary concert in Montreal that will unite musicians from 14 different countries.
Ellington, whose career began in 1919 and ended at his death in 1974, was one of the most respected figures in jazz. He created music that has been performed in dance halls, nightclubs, theatres, films and at concert halls and religious services, and has been extensively recorded and documented.
"What makes Ellington so special," Homzy said, "is that unlike other big band leaders, Ellington was a composer." That places him in the same category as George Gershwin, whose 100th birthday was celebrated last year.
Also, both Gershwin and Ellington have a connection to the influential band leader Paul Whiteman (1890-1967). Whiteman commissioned both Gershwin's Rhapsody in Blue and Ellington's The Blue Belles of Harlem, which was performed at Carnegie Hall in 1938.
Homzy, who does musicological work on Ellington for the Smithsonian Institution in Washington D.C., will be elaborating this thesis of Whiteman's influence on Ellington at two Ellington conferences, one on February 22 in Prato, Italy, the other at Amherst College in Massachusetts on March 4.
At the Spectrum in Montreal on April 29, Homzy will be host at a tribute to Ellington featuring musicians from several European countries and from North America. The program includes Concordia faculty members Dave Turner on alto saxophone and Charles Ellison on trumpet, and former Concordia student Jacques Bourget, a trombonist from Quebec City.
The concert was conceived by the European Broadcasting Union and organized by Radio-Canada producer Daniel Vachon with Homzy's artistic direction. It will be broadcast live, with a repeat performance in Quebec City the next day.
"We are celebrating Ellington not for reasons of nostalgia, but for his art," Homzy said. The main issue that Homzy faces in rendering the art of Ellington is "not to recreate but to reinterpret Ellington's music with the original orchestration, presenting the musicians involved with the same challenge Ellington gave his musicians."
Ellington, who was also a pianist and conductor, composed and scored his music with specific instrumentalists in mind, identifying parts with the name of the instrumentalists for whom they were written, distinctive artists like Bubber Miley, Cootie Williams, Johnny Hodges, Barney Bigard, Juan Tizol, and Paul Gonsalves.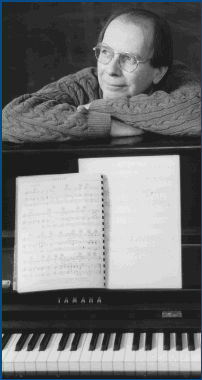 A further challenge for Homzy and his fellow musicians is reviving performance practices of another period. "Ellington's music prior to the 1950s is problematic for modern jazz musicians," Homzy explained. "The tone, blend phrasing and rhythm are so different."

The program will represent Ellington's oeuvre, beginning with the 1920s East St. Louis Toodle-oo and ending with Battle Royal, a piece composed for the 1959 film "Paris Blues." The body of the concert will feature a Homzy-arranged medley of Ellington's many hits that will showcase every member of the orchestra; a group of rarely-performed compositions; music from the Sacred Music Concerts, three collections of religious music that Ellington wrote after 1967 and
considered his most important music; the Togo Brava Suite (1971) and a Homzy composition in honour of Ellington.

As director of the Valentino Orchestra, Homzy is also involved in recording a CD of early published arrangements by Ellington. The orchestra, which its leader characterizes as a "proto-swing" band of the kind found in dance halls and hotels in the 1920s and 1930s, "represents the kind of music prior to the swing era," and is excellent evidence
that "there was hot music before swing."

The freshness of this early music is what attracted Homzy to Ellington in the first place, as he found early Ellington, in particular, to be "fresh and explorative, just as early bebop and early free jazz were."

<! _______________________________________________________________________________>


Copyright 1998 Concordia's Thursday Report.