! THURSDAY REPORT ON-LINE> <! 28/01/99 Issue> <! Site Designede and DevelopedBy: S. Mehrad B.Eng. For comments and problems contact: technical@mehrad.qc.ca> <! http://www.mehrad.qc.ca>


<! ________________________________________________________________________________>
Gabor Szilasi interprets Monet's garden
by Barbara Black
---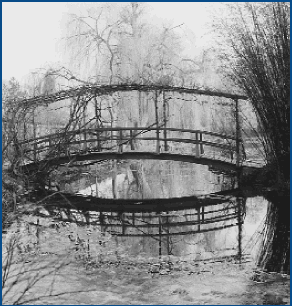 Monet's garden at Giverny in winter, photographed by former Concordia Professor Gabor Szilasi. Winter was his favourite season.
Former Photography Professor Gabor Szilasi was asked by the Montreal Museum of Fine Arts to photograph Claude Monet's famous garden, Giverny, in each of the four seasons.
Twenty of his colour photographs, printed in a large-scale format, are now being exhibited with the exhibition Monet at Giverny: Masterpieces from the Musée Marmottan,, which opens today at the MMFA.
"When I first got the assignment, I wondered if I should reproduce the actual locations of the paintings, but then I thought, no, I'm a photographer, I'll do it my way," he said recently.
It was a departure in subject matter for Szilasi, who tends to be a documentarist, and he thinks that was a factor in choosing him for the project.
"I think I did capture the garden as a landscape. I didn't do any close-ups of flowers -- you'll notice that Monet didn't paint any, either. I included the sky and the surrounding Normandy hills."
His favourite photos were taken of the garden in winter, when there were no flowers, few tourists, and a beautiful, delicate light. Altogether, Szilasi made five trips to France to photograph the garden. (His spring visit was too early for the irises, which were essential, given their prominence in the paintings.)
One of the pioneers of what was to be called the Impressionist movement, Monet attacked his canvases with great intensity, trying to capture the interplay of light and colour at a precise, fleeting moment.
In the 1890s, he bought a huge garden at Giverny, not far from Paris, and soon had as many as seven gardeners working under his direction. He painted there from 1899 until his death in 1926, producing dozens of large paintings.
In the 1970s, an American philanthropist started a drive to restore Giverny to its former glory. Now it is one of France's major tourist attractions. Szilasi said that he took his photos in the early morning and evening hours, not only because the light was more interesting then, but because in the summer, as many as 2,000 people a day are visiting the site.
Szilasi had an eventful early life. He was born in Hungary, and in 1949, when he was 21, made an unsuccessful attempt to leave the country that landed him in jail for five months. In 1952, he acquired his first camera, and documented the 1956 uprising before escaping with his father.
When he got to Canada, it was discovered that he had tuberculosis. During his recuperation in a sanatorium, he befriended a librarian for the Quebec government who taught him the rudiments of photographic processing and printing.
Szilasi embarked on his varied career, travelling throughout Quebec and across Canada, doing photographic work for the government, working with artists, enriching his craft and teaching others. He became a professor at Concordia in 1980, serving as Chair of the Photography Department for several years, and retired in 1995.
In 1997, the MMFA gave him a retrospective exhibition, Gabor Szilasi: Photographs, 1954-1996, and published a full catalogue of the work.
Monet at Giverny: Masterpieces from the Musée Marmottan, plus Gabor Szilasy's four-by-five-foot colour photographs, may be seen from January 28 to May 9 at the Montreal Museum of Fine Arts.
Daughter Andrea Szilasi's photos also on exhibit
Andrea Szilasi (BFA 91) is the daughter of the photographer, and her work is on view now, too.
Her large prints, made by cutting up photographs to create new images, drew an admiring review from Henry Lehmann in last Saturday's Gazette.
The exhibition is at the Galerie Circa, 372 Ste. Catherine St. W., Room 444, until February 13.

<! _______________________________________________________________________________>

Copyright 1998 Concordia's Thursday Report.