! THURSDAY REPORT ON-LINE> <! 28/01/99 Issue> <! Site Designede and DevelopedBy: S. Mehrad B.Eng. For comments and problems contact: technical@mehrad.qc.ca> <! http://www.mehrad.qc.ca>


<! ________________________________________________________________________________>
Cruising the booths for services
Student Services' Disco Inferno gets noticed
by Heidi Klaschka
---
The shocked look on students' faces said it all. Mouths dropped and eyes widened as students arriving at the Mezzanine in the Henry F. Hall Building on January 21 caught their first glimpse of the Student Services Disco Inferno.
"We really caught their attention, that's for sure," organizer Carl Kouri said modestly.
Staff went "far out" all right. Black platform shoes etched in flames. Turquoise glitter halter-tops. Flared, glistening white trousers. Sequined attire abounded.
The semi-annual fair offered students the opportunity to cruise booths and see which services were available without taking too much time out of busy schedules.
Most students simply use services they are familiar with, and are unaware Concordia offers a host of other ones.

"We really just use the health services," said Laura Cammalleri.
"And the sports facilities," added Pat Savo, peering over the interviewer to gawk at staff grooving to the funky tunes provided by CJLO. Sports facilities may be so popular due to aggressive recruiting by the Recreation and Athletics Department.
"Do you know where the gym is?" asked Jameel Chaudry, waving a fluorescent orange flyer at a group of passersby. "Wait! I'm not done with you yet," he said with a wink, twirling his braided wig around a finger. "You wanna win a hockey stick?"
Students were lured over to booths with a variety of incentives, from free condoms at Health Services to cream caramels at Legal Information.
The International Students office offered fair-goers a chance to play FLAGS, a geography quiz game. "This must be an old map," commented one contestant. "The Soviet Union is split up now."
"It's just in keeping with the '70s theme," staffer Pat Hardt covered herself nicely. "We have an old globe, too!"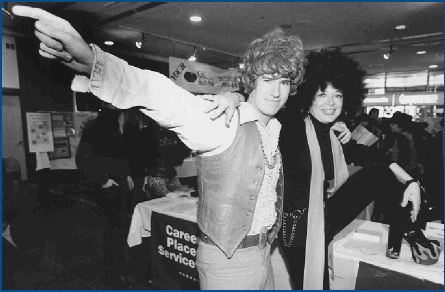 The Dean of Students Office was totally in '70s mode, too, with a black and white life-size cardboard cutout of . . . Could it be. . . "Who is this man?" asked the sign beside the 1972 cutout. Students clustered around, debating the puzzle. Staffers' lips were sealed. It was of Don Boisvert, the Dean of Students, whose office sponsored the draw.
The Financial Aid and Awards office offered a contest with money involved. Students had to guess how many coins were in the fishbowl.
Around the corner was Counselling and Development's wildly attired Marc Léger, in terracotta (self-described as "puke orange") corduroy trousers and ruffled shirt enhanced by a heavy gold chain.
"We help students manage stress," he shouted over Sister Sledge booming, "We are f-a-m-i-l-y ... "
Students visiting the fair had a few suggestions of their own of new services to make university life less stressful. Home pizza delivery topped the list. <! _______________________________________________________________________________>

Copyright 1998 Concordia's Thursday Report.