! THURSDAY REPORT ON-LINE> <! 27/05/99 Issue> <! Site Designede and Developed by: S. Mehrad B.Eng. For comments and problems contact: technical@mehrad.qc.ca> <! http://www.mehrad.qc.ca>



<! ________________________________________________________________________________>
Phil Matthews combines his studies with Formula 2000 car racing
Engineer is put to the test
by Derek Cassoff
---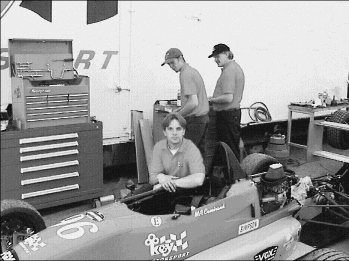 He's still a few credits shy of completing his engineering degree, but when it comes to the mechanics of auto-racing, Phil Matthews already sports an impressive track record.

In a situation that best epitomizes Concordia's attempt to offer students hands-on experience, Matthews is combining his engineering studies with work as team manager and chief engineer for Key Motorsport, an Ontario-based outfit that runs six race cars on the Formula 2000, Formula 1600 and Atlantic racing circuits.

The circuits, which involve races across North America, are considered a training ground for engineers and drivers looking to eventually move up to Indy car and Formula One Grand Prix racing.

When he's not attending classes or cramming for an exam, Matthews heads Key Motorsport's team of five mechanics and is responsible for developing his team's British-built cars to race specifications. Using knowledge gleaned from past experience and his engineering professors, he tinkers with everything from shock absorbers and suspension systems to wings and diffusers, constantly on guard for any slight modification that will give his team's drivers that vital edge.

Most of the work is done at Key Motorsport's race shop in Laval, but Matthews travels with the team during the racing season, overseeing last-minute preparations based on changing weather patterns and course conditions.

"Some days, it's very complicated, and other days it's painfully simple," Matthews, 28, said last week in a telephone interview from Bowmanville, Ont., where the team was preparing for a weekend race.

Key Motorsport has enjoyed enormous success early in the 1999 racing season, capturing first place at the Phoenix International Raceway at the end of March and at the Mosport Grand Prix last weekend. The Formula 2000 car was driven by Marc-Antoine Camirand, a 19-year-old from Trois Rivi¸res who is being tabbed as the next Jacques Villeneuve and leads the series in points.

But a driver is only as successful as the team lurking in the background, according to Wesley Fitch, technical officer with Concordia's Faculty of Engineering and Computer Science and the man who first introduced Matthews to the owner of Key Motorsport.

"You can be the best driver in the world, but it means nothing if you don't have a car that will go the distance and deliver the performance that you need," Fitch said.

Matthews's foray into the world of auto racing was certainly no accident. His father raced motorcycles for a living and Matthews says it was only in his teen years, after his dad's retirement, that he was exposed to a world outside of racing.

The hiatus didn't last long. By 14, Matthews was trying his own luck on the go-kart circuit, and at 18 he left for Europe, spending two mildly successful years on race tracks in the Netherlands and England. The high cost of racing eventually convinced him to consider a career in mechanics.

Matthews admits he was never the studious type, but he decided to enrol at Concordia in 1996 to fulfil his ultimate dream of becoming an engineer for Formula One racing. Engineers at that level require university certification.

"My initial attitude to school was that it was a place where I could get the piece of paper that I needed to get a job," Matthews said. "But then I realized that education is so important to auto racing. You don't realize how much engineering goes into everything."

"There's a lot involved in squeezing the most power out of your vehicle," Fitch agreed. "It's high-tech engineering, and Phil is using what he has learned in courses such as materials and fluid dynamics. It's taking the theoretical and putting it into practice."

In a way, Matthews has become the poster boy for the Faculty of Engineering and Computer Science, which encourages hands-on learning through part-time jobs, internships and participation on collegiate design teams.

While Matthews has walked a fine line balancing his studies with his job, Fitch said faculty members are usually willing to accommodate students involved in extracurricular work, even if it means juggling class schedules and deferring exams.

"The students graduating from Concordia will be better-prepared students if we find the time to allow them to participate in these types of activities," Fitch said. "We want to prepare students that industry needs, not students that we think they need."

<! _______________________________________________________________________________>




Copyright 1999 Concordia's Thursday Report.