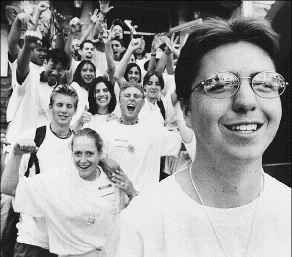 Chris Palin, this year's president of CASA (Commerce and Administration Students Association) is already a seasoned student administrator. Last year the Marketing student was CASA's vice-president human resources, and before that, he was president for two years of the 5,000 students at John Abbott College.
Palin wants to continue to improve CASA's communication with students. Naturally, as a business student, he's also keen to build closer relationships with the business community.
"We have many, many opportunities for people to sponsor us," he said, "from having their name on a hat at the Commerce Games to sponsoring our computer lab."
Commerce students now have free access to a computer lab with 30 Pentiums, but the technology comes at a cost. "We spent $65,000 last year on staff and buying new computers for the lab," Palin said.
CASA held a big "Buzz Day" for incoming students. Teams competed in games that range from business cases to a three-legged race.
Palin's organizational skills came in handy over the summer, as he prepared for his year in office while working 10-hour days at Pepsi.
- BB
Chris Palin and friends on Buzz Day, CASA's get-acquainted day of activities, held September 11.




Careers Fair to be held October 13 to 15
Mo Franco: Broadening ECA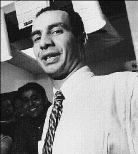 Mauro "Mo" Franco, the president of the ECA (Engineering and Computer Science Students Association), spent his summer as the director of REACH, a popular children's science camp started nine years ago by McGill and Concordia engineering students.

"We've got a good team at the ECA this year," he said, from his newly renovated office. The first big project is a Careers Fair, to be held October 13 to 15. "We're trying to get 50 companies from as far away as France."

Franco, a second-year Computer Engineering student, is interested in the big picture. He was shocked to discover that only five students in his Faculty have taken advantage of the chance to study abroad in the last 15 years, and plans to work with the Centre for International Academic Co-operation to promote international exchanges.

Vice-Rector Services Charles Emond and Rector Frederick Lowy took in the football game with many new students on September 12. At left, one-year-old Jessica Tortolano plays cheerleader. The "99" on her face is the jersey number of her uncle, Stingers defensive tackle Jeff Anderson. The Stingers beat the Carleton Ravens, 12-7.