---
by Heidi Klaschka
---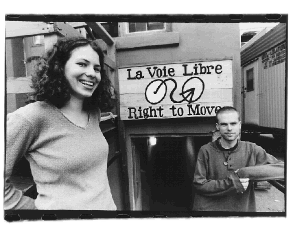 While 10 cents may not seem like a lot of money, the dime increase from 20 to 30 cents per creditlevied on this year's activity feesadds up to more than $20,000 for Concordia's chapter of the Quebec Public Interest Research Group, or QPIRG.

"Depending on enrolment, we will get $80,000 to $90,000 this year, said Mike Caplan, QPIRG coordinator. That's up from $60,000 last year.

QPIRG, a group dedicated to social and environmental change, is using part of the extra money from Arts and Science and Fine Arts students to expand activities and services.

Concordia's orientation week included a wide range of QPIRG activities, ranging from workshops on how to be an activist to an alternative bike tour promoting healthy commuting.

Right to Move, the new QPIRG bike shop, led the tour. Located behind Reggie's, the shop specializes in recycling bicycles and making them accessible to community groups and students at low prizes. It also teaches individuals how to fix their own bikes.

Working groups like Right to Move are an integral part of QPIRG. Students may join any of the existing groups, or begin a new one. The organization is always on the lookout for new "seed" groups to start growing.

"Say a group is concerned with the pollution in the St. Lawrence River," said Caplan, a two-year QPIRG veteran. "We'll provide support such as finances and office space." For example, the Popular Theatre Group, a 1998 seedling, aims to raise consciousness through participatory theatre.

Similarly, one of QPIRG's older "tree" working groups, the Media Collective, has evolved this year into a street-theatre ensemble, newly named Work in Progress. It uses puppets, face-painting and skits "to make information about social and ecological issues more accessible by bringing a cultural face to politics," Caplan said.

QPIRG's activists workshop is called Tools for Change. "We want people to become involved in the community," said another QPIRG coordinator, Jen Katz-Douek. "We're always looking for new volunteers." QPIRG currently boasts more than 200 active student participants.

"We're here to help the working groups organize themselves," Caplan explained. "A lot of the people involved are talented, creative people doing amazing work -- and teaching us a few things."

QPIRG prides itself on functioning as a participatory democracy. The student-based board of directors reaches consensus on all issues. "We've gotten quite good at it," Katz-Douek said with a smile, from the office at 2130 Mackay St. "We want the individuals that the decisions affect to be involved in the decision-making process," Caplan added.

Concordia and McGill QPIRG branches are combining forces this year to ask students to "come down from the ivory tower" and join a community research internship program. Students will earn academic credits by studying proposals put forward by the community. For example, Montreal Women's Aid is seeking an intern to write a literature review of domestic violence.

"Most of the responses we've been getting have been from professors who are really excited about integrating the internship program into their classes," Caplan said.

Students, faculty and community members interested in the internship program, or any of the working groups, can phone QPIRG at
848-7585, e-mail them at QPIRG@alcor.concordia.ca, or
visit their Web site: http://alcor.concordia.ca/~p\qpirg/.