---
by Eugenia Xenos
---
Jim Drobnick, an assistant editor at the respected contemporary art magazine, Parachute, will be writing on the subversiveness of smell for his PhD in Humanities.
Drobnick has already begun to take an inventory of how the olfactory sense has been incorporated in the visual arts. "Scent has had a significant, but unacknowledged, presence in art," he says. Early modern artists like the Futurists, Dadaists and Symbolists recognized the powerful and direct role smell could play in visual art, but had barely begun to explore the possibilities in their works, he says.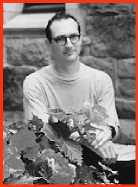 Contemporary art, though, is full of examples. Drobnick points to Stephan Balkenhol's 1991 sculpture of 57 penguins made of wa-wa wood, which had a "playful, mock-realist, almost uncanny" scent of the ocean added to them.

In a recent Parachute article, Drobnick also points to other artists, including Robert Houle, who evokes his aboriginal background in a sweetgrass circle in Hochelaga (1992); Bill Viola, who juxtaposes a boiling cauldron of eucalyptus leaves against a video of a similar boiling cauldron to show the immediacy of smell in Il Vapore (1975); and the inimitable Jana Sterbak, of "meat dress" fame, who has a piece called Perspiration: Olfactory Portrait (1995). Sterbak's piece contains a chemical reconstitution of her partner's sweat that only acquires a scent when rubbed into another person's skin.

Drobnick points to how vision has been the dominant sense since the time of Plato, who called it "the noblest of senses," and Immanuel Kant, who called smell animalistic, its usefulness being only "to alert us to the repugnant and foul."

Drobnick is exploring how smell -- one of the "proximity" senses, along with taste and touch -- can subvert the distance that characterizes vision. Museums, he remarks, all too often favour a detached mode of perceiving, which denies the full range of sensory experience. "The unpredictability and evocativeness of fragrance poses a canny challenge to art's visual bias."

Drobnik says he likes this project because it comes from "left field: I am looking at the visual arts from a non-visual perspective. In the end, I hope to demonstrate that odours can be just as complex, meaningful and aesthetic as any other artistic medium."

Drobnick started his degree in 1997, and will be finishing course work this semester. He has taught in the Interdisciplinary Studies and Master of Fine Arts programs at Concordia. He has won SSHRC, FCAR and Concordia fellowships to pursue this work.
Therrien bridges visuals and sound design in film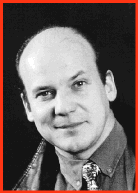 Filmmakers don't always know as much as they could about the sound that accompanies their images, says Michel-Charles Therrien, a second-year PhD in Humanities student who has worked in the music industry for 20 years.

That's why Therrien will be incorporating an instructional CD-ROM into his dissertation, which will study a group of cinema students' responses to methods of learning sound design concepts and principles. With a background in multi-media, music technology and educational technology, he looks forward to bridging the gaps between music and cinema.

"I've noticed that filmmakers are image-aware, but don't always possess the terminology or awareness to communicate how they want the soundtrack to be," he said. "Sound and music are often treated as the poor relations of drama, images and visuals."

When he was working at Radio-Canada, he was once asked to propose a musical score for a new program. The producers were looking for something acoustic, not synthesized.

Therrien came up with a classical composition and hired musicians to perform it, but his proposal was not accepted. Later he found out the producers had chosen a very synthesized pop music piece. "It's not that they didn't know what they wanted the music to sound like," he says, "but they didn't know how to express it."

Last spring, Therrien was musical director and arranger of Jerusalem: The Musical, which had its world premiere at the Saidye Bronfman Centre. He was also invited to present his work on Japanese radio and television last December, and has worked with artists like dancer Margie Gillis. He teaches in the Music Department here.

- Eugenia Xenos
Watching film noir and reading Sara Paretsky
Cheryl Simon investigates women and crime in popular culture


Cheryl Simon's thesis in the PhD in Humanities program started as a study of female detective fiction and the emergence of women's detective fiction in the late 1980s, but broadened in theme to include other popular representations of women and crime between 1989 and 1994, including tabloid journalism and film.

Her work has had her watching film noir and reading Sara Paretsky and Sue Grafton crime novels, in addition to wrapping her mind around the dryer feminist theory and discourse analysis.

"I'm interested in how crime narratives tend to focus on ways in which women transgress gender roles even more than the crimes they enact," Simon said. She argues that as women's sexuality has changed and acquired new significance in the last decade, so have the genres.

"Not only do we find female hard-boiled detective fiction replacing the male detective fiction of the 1940s, but the family melodrama or 'woman's picture' of the '40s now features stories told from the male perspective." The family melodrama has been replaced by tabloid TV, like America's Most Wanted.

Simon says one of the things she likes best about the program is the relationship that students have to faculty. "It's very collegial," she said. "Students tend to be older and professional, and may even have had contact with faculty in a professional way."

As to whether Cheryl Simon is related to Sherry Simon, the Director of the PhD in Humanities program, the answer is no. "However, a few years ago at a conference in Scotland, someone followed me to the Isle of Obanbecause she thought I was Sherry and wanted to pick my brain about my work!"

Simon started post-doctoral work at the University of Rochester this month, where she is studying the use of historical material in photography. She has also taught feminist art practice and cinema studies here at Concordia, and her background is in applied arts and photography.

- Eugenia Xenos