! CONCORDIA'S THURSDAY REPORT ON-LINE> <! September 23rd, 99 Issue> <! Site Designede and Developed by: S. Mehrad B.Eng. For comments and problems contact: technical@mehrad.qc.ca> <! http://www.mehrad.qc.ca>



<! ________________________________________________________________________________>
Warmth and wisdom from North Carolina
by Denise Roig
---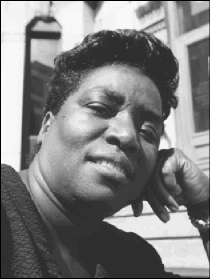 The only difficult thing about talking to Brenda Rowe is finding her. She could be at Concordia's Simone de Beauvoir Institute
or at the Centre for Native Education, where she's the new interim Co-ordinator. Then again, you might find her at the Black Community Resource Centre on Côte des Neiges working with young people in the centre's youth internship program.
She could be delivering a motivational speech, planning an event for her church, or heading home to Dollard-des-Ormeaux for an after-school activity with her two teenagers.
But once you've caught up with this Concordia professor, sitting face to face over a coffee, she's all there. Ready to talk, ready to listen. There's a lightness in her manner; modesty, too. When asked about her multiple commitments, she seemed unimpressed. "Happiness is in the friends you have and in doing what you like. Everything else is gravy," she said.
Doing what she likes means teaching. Over the past 25 years, that's taken many forms for the North Carolina native, from coaching life skills at John Abbott College to women returning to the workforce, to teaching women's studies at the Simone de Beauvoir Institute. "When you're teaching any subject, any skill, you're teaching about life," she said, "and you're always revealing who you are."
Rowe finds this especially so in the women's studies courses she's been teaching since 1994. She thinks back to just the evening before, the first class of the semester in her Introduction to Women's Studies I course. "Before I even handed out the syllabus, I asked a lot of open-ended questions. I let them do the talking. Then I talked from my own point of view."
The aim is to create a climate of respect and trust in the classroom. "This is the only way that education happens," she said. "I've always welcomed everyone in my classes: men, women, students from very traditional backgrounds and those who tend to be more what I call activists. My job is to push them closer together, to get them to listen to each other."
Nothing is sadder to Rowe than missed opportunities to grow. "I tell my students they don't have to spend money on an expensive airline ticket to learn about other cultures. In Montreal, you can do this on a daily basis."
Now, on a nearly daily basis, she is learning from the students who come into the Centre for Native Education. In her first weeks in the half-time, interim position, Rowe has already helped organize an orientation breakfast, talked to the different bands across Canada and met some of Concordia's 200 native students. "The Centre is a wonderful place just to drop in. We laugh, we talk."
Rowe believes there are many similarities between black people and First Nations people, and her new position gives her yet another means to fight "racism, sexism and all those other isms that keep people oppressed. When we are fighting these, we are making the world better not just for women and for children, but for men, too. For humankind."
Rowe also makes no attempt to hide her strong spiritual beliefs. In fact, everything she does -- all the projects and programs and speeches -- is based on her deepest conviction: that the Creator ("whoever you believe him or her or it to be") created all people equal. "The Creator was the first promoter of human rights. Look at all the world's great religions, I tell my students, and you'll know this to be true."
What's also true is that there is still a lot of work to be done. "Mainstream women need to be willing to do the same things they're now asking men to do," she said. "They need to understand the needs of others, particularly minority women."
It all comes full circle for Rowe, who is constantly encouraging her students to understand the influences on their lives and preferences. "But this is only step one." Rowe has little use for introspection that goes nowhere. "What's most important is looking at the ways our lives influence others." <! _______________________________________________________________________________>



Copyright 1999 Concordia's Thursday Report.