! CONCORDIA'S THURSDAY REPORT ON-LINE> <! September 23rd, 99 Issue> <! Site Designede and Developed by: S. Mehrad B.Eng. For comments and problems contact: technical@mehrad.qc.ca> <! http://www.mehrad.qc.ca>



<! ________________________________________________________________________________>
Golfers -- an Apple computer waits to be claimed
Their skills may have varied from neophyte to expert, but all the golfers enjoyed themselves at the seventh annual Concordia University Memorial Golf Tournament, held on August 26 at the Caughnawauga Golf Club.
This year,195 Concordians took part in this late summer classic, making this year's edition the largest ever. Nearly $3,000 will go to the university's Memorial Endowment Fund, which provides scholarships to deserving students.
The winning golfers were:
Low gross: Les Landsberger and Priscilla David
Low net: Manny Valera and Boi May Ang
Winning Vegas team: Bill Miller, Gilles Côté, Les Becskei and Craig Brown
"Most honest golfer": Agnes Csordas
A hardworking committee made this day such a great success. They are Dave Batten, Perry Calce, Marcel Danis, Sandra D'Sylva, Wendy French, Sandra Spina, Tony Patricio and Marina Wolanski. Thanks also to Irvin Dudeck and Chris Mota for being lively emcees at the awards dinner.
Take note: a handsome computer is waiting to be claimed by a lucky ticket-holder who attended the tournament. The ticket is
orange, and the winning number is 219298. The holder of this ticket has until 4 p.m. on Monday, September 27 to present it for verification; call either Marina Wolanski or Perry Calce at 848-2575.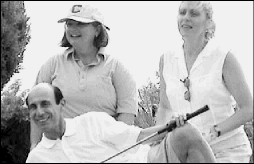 Golfers Jackie Chegrinec (left), Laura Stanbra (right) and Irvin Dudeck (horizontal)

<! _______________________________________________________________________________>




Copyright 1999 Concordia's Thursday Report.