! CONCORDIA'S THURSDAY REPORT ON-LINE> <! September 23rd, 99 Issue> <! Site Designede and Developed by: S. Mehrad B.Eng. For comments and problems contact: technical@mehrad.qc.ca> <! http://www.mehrad.qc.ca>



<! ________________________________________________________________________________>
Staff Works
McAusland's empire
How an interest in technology grew into a bustling administrative and academic unit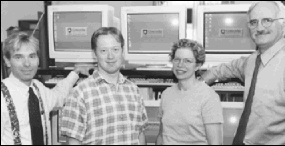 Academic Technology staff Aaron Brauer, Patrick Devey, Deborah Shulman and Andrew McAusland
by Cory Monahan
---
Andrew McAusland has had his hands full over the last 12 years as Director of Academic Technology, filling the growing needs of the Faculty of Arts and Science.
"We try to react to the expectations of the students," McAusland explained in an interview. "Three years ago, you'd go into a class of 100 people and ask who had access to the Web off-campus. Out of 100, maybe 10 hands would go up. This year, it was the opposite: maybe three hands didn't go up."
The Academic Technology (AT) office, located in the CC building at Loyola Campus, is expanding faster than workers can renovate new computer rooms. McAusland estimates that over the past three years, there has been a 45-per-cent increase in enrolment in Interdisciplinary Studies, a trend he partially attributes to the fact that INTE offers unique elective skills-acquisition courses that are outside the offerings of most departments.
The crown jewel of the operation so far has been in document imaging, a massive effort at transferring 25 years' worth of faculty and staff archives, some 850,000 sheets of paper, into a 225-gigabyte server the size of a two-drawer filing cabinet.
The project has spurred universities and provincial governments from across the country to contact McAusland looking for details about how it's working out, and, more important, to pick McAusland's brain for information on the potential for saving money.
"The cost of maintaining paper documents is enormous," he said. "Between eight and 10 per cent of the operating costs in a regular business is given over to the handling of documents. So if you have a $50-million business, $5 million is taken up just in that."
All the work involved in document imaging is done on site at Loyola in a large room that is slowly being transformed into a new studio for Academic Technology video productions.
The top-of-the-line digital equipment, including two video cameras and an editing suite, enables Arts and Science staff to fashion streaming video for web broadcasts, one of which will document the Capital Campaign celebrations in October.
Patrick Devey, 23, a graduate student and AT co-ordinator, used the technology to create a video introduction (available at http://132.205.57.9/inte/html/inte_296.html) for INTE 296, a statistics course. Filmed inside the school and at various locations around Montreal, including the Casino, it replaces that often tedious first day in class. Not that students of INTE 296 will ever see a classroom -- the course is given entirely online.
Interdisciplinary Studies offers a total of four courses, including INTE 296 and three others dealing with computer technology; a fifth, Problem Solving and Critical Thinking, is in the works, and will be available online in the future.
McAusland's colleague of 10 years, Aaron Brauer, is the only other full-time AT staff member. He runs the technical side of the infrastructure -- maintaining basically all of the computer equipment in the Faculty -- and is becoming more responsible for course delivery.
McAusland graduated from Concordia with an honours degree in philosophy and a Master's in educational technology. Between them, he and Brauer manage to teach more than 3,000 students per year.
McAusland plans to open up the Academic Technology office even further with a venture into e-commerce that will include selling course material over the Web. And the success of the document imaging project encouraged him to take on a second imaging task: 2,000,000 pages of curriculum files. That's set to begin early next year.
Suzanne Belson takes on the army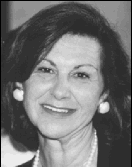 For 21 years, Suzanne Belson was a strong voice for justice throughout the university and a respected figure in the ombuds community.
She retired as Concordia's Ombudsperson last spring, but not from her career, having accepting a challenging post in the ombuds office of the Department of National Defence/Canadian Forces. Suzanne's many friends and colleagues celebrated her contribution to Concordia on September 9.
In the 1970s, Belson was working as an advocate for non-unionized workers when Concordia University decided to open an ombuds office. "I welcomed the opportunity to come to my own decisions about cases," she said.
As then Rector John O'Brien reminded those at the retirement party, four ombudspersons were hired for that first office. The appointments were for only two years, and the appointees had to be recent graduates, which Belson was, in women's studies. She continued to take courses to keep in touch with student life, doing a Diploma in Institutional Administration and an MA in education studies.
While the job of resolving conflict has often been difficult and occasionally disappointing, it has had precious rewards, she says now. She has been able to improve many university policies for the better, and "when I go to convocation and see students cross the stage, I can say, 'That one's mine!' Some of those students wouldn't be graduating if I hadn't helped them."
One of those who wanted to be at her retirement party but couldn't was Ronit Yarosky, a former student now launched on her own professional life.
"I first met Suzanne in the autumn of 1992. I came to her to discuss a problem I was having," Yarosky wrote in a tribute.
"The first thing I noticed was her sense of fair judgment. While she easily could have disbelieved the story I was telling her, she gave me the benefit of the doubt and treated the case in an impartial and unbiased manner.
"We were up against impressive obstacles, and it was Suzanne who kept me in focus and never let me forget that together we were fighting a worthwhile battle. There were times when I honestly felt that the entire university was against me, but Suzanne was always there, encouraging me.
"She also taught me practical lessons. She helped me develop my communication skills by teaching me how to pen a letter that could knock the socks off you. She reminded me that by counting to 10, my aggravation and frustration could be used constructively. She showed me how important it is to stand up for what is just. And she helped me learn that sometimes in life, you just have to let sleeping dogs lie.
"Ironically, while the incident that led me to Suzanne was most unpleasant, I would not have had the opportunity to meet her otherwise. While Suzanne was not my professor, she in many ways taught me more about real life than did my professors. Knowing her reinforced my understanding of the context of university within the greater universe. Important as higher education is, it is often the case that life's tough lessons are not learned in a classroom."
- Barbara Black <! _______________________________________________________________________________>



Copyright 1999 Concordia's Thursday Report.