! CONCORDIA'S THURSDAY REPORT ON-LINE> <! September 23rd, 99 Issue> <! Site Designede and Developed by: S. Mehrad B.Eng. For comments and problems contact: technical@mehrad.qc.ca> <! http://www.mehrad.qc.ca>



<! ________________________________________________________________________________>
Concordia buildings guessing game
Where is it?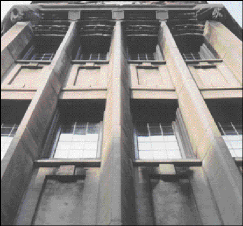 A castle with a drawbridge in downtown Montreal -- that's the impression given by this little jewel.
Bishop Court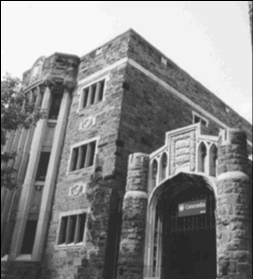 The Tudor castle on above is Bishop Court, home of Concordia's senior administration at 1463 Bishop St. An apartment building constructed in 1904, this superb example of Tudor Revival Style brings together several different trends in turn-of-the-century building, according to Liberal Arts College art historian Virginia Nixon.
"Its style, based on Hampton Court Palace, proclaims English identity in a French city," she said, adding that you can see many less obvious references to Hampton Court and other late medieval English buildings in Westmount.
"The pointed arches, the 'Tudor surround' over the upper window, like a squared sideways C, and the thick stone mullions separating the bays of the window (seen on the detail above) all proclaim the late Gothic of Tudor England. So do the crenellated turrets on the gate, and the lovely iron gate.
"As well as recalling that most English of English historical eras, the building's warm and tactile materials, its compact courtyard, leaded glass, and snug staircases were part of a new, cosy aesthetic of domestic living that was popularized in late 19th century England."
Bishop Court's rich complement of historical allusions has another side, Nixon added. "It was one of the first of a new type of housing that developers were pushing at affluent Montrealers: the luxury apartment, which, unlike flats, sometimes included maid and dining service." <! _______________________________________________________________________________>



Copyright 1999 Concordia's Thursday Report.