! CONCORDIA'S THURSDAY REPORT ON-LINE> <! September 23rd, 99 Issue> <! Site Designede and Developed by: S. Mehrad B.Eng. For comments and problems contact: technical@mehrad.qc.ca> <! http://www.mehrad.qc.ca>



<! ________________________________________________________________________________>
The women of Beaver Hall remembered
Book and exhibition shine spotlight on Montreal painters
by Barbara Black
---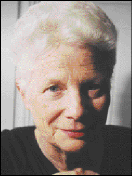 In the 1920s, women weren't expected to be professional painters, and if they did, they had better expect to make some sacrifices.
That's the underlying message of a new book by Barbara Meadowcroft called Painting Friends, about the careers and connections of 10 Montrealers loosely designated as "the Beaver Hall women."
There were once artists' studios on Beaver Hall Hill in downtown Montreal. The Beaver Hall Group comprised both men and women, including five of the women in Meadowcroft's book. However, she chose her subjects not because they belonged to a recognized art association or movement, but because of the friendships and circumstances that linked them.
"My project was not to write 10 individual essays, but to keep them as a group in Montreal," she said recently. As a feminist, Meadowcroft wanted to examine these artists in the
context of their social milieu, and in the light of their mutual support.
It's an approach that has increasingly attracted scholars such as Concordia art historians Janice Helland and Catherine Mackenzie, who lent support to the writing of this book. Others were Leah Sherman and Alfred Pinsky, students of Baron Byng High School's Anne Savage, one of the Beaver Hall women. Outstanding students of an outstanding teacher, they went on to found the art school that led to our Faculty of Fine Arts.
The women in Painting Friends were not wild-eyed rebels. All but one were born into the Montreal establishment, the well-brought-up daughters of successful Protestant businessmen. Compromise, sacrifice and discretion were built into their characters, if not into their artistic aspirations.
While they were experimenting with bold, lush colours and flowing lines, they were looking after their ailing parents, teaching children, and resolutely doing their duty. Only one married, and she became a society portrait artist.
They hobnobbed with the Group of Seven, in at least one case leading to an intimate relationship, and stood back, perhaps wistfully, as the men freely travelled Canada's wilderness for their often monumental paintings. The Beaver Hall women tended to paint figures, or the landscapes around their families' country homes.
Recognition was fairly fleeting. They were panned by the same critics who panned the Group of Seven,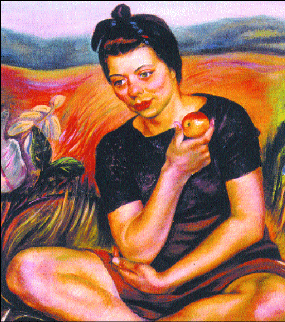 and for the same reasons; European post-Impressionism took at least a generation to catch on in Canada. By the 1950s, the wheel had turned again, and their style was dismissed as old-fashioned.

Now they are regarded with fondness, respect and curiosity. Retrospective shows of individual members of the group have been mounted, notably by Karen Antaki, Director of Concordia's Leonard and Bina Ellen Art Gallery, but the two-week show now in progress at the Walter Klinkoff Gallery to salute Meadowcroft's book is the first collective exhibition of these old "painting friends."

Meadowcroft is a research associate of long standing at the Simone de Beauvoir Institute, one of 15 scholars who do unpaid work for the women's studies centre in exchange for library and e-mail privileges.

Writing about art wasn't a stretch for her. Her sister was an artist, and she has a long-standing interest in Canadian art. She has a PhD in English literature from McGill University, and took courses in women's studies under the mentorship of former Simone de Beauvoir principal Marianne Ainley. The Painting Friends project took her a decade.

The exhibition of paintings by the Beaver Hall women runs until October 2 at the Walter Klinkoff Gallery, 1200 Sherbrooke St. W. Painting Friends is published by Véhicule Press.

Photo (above) : Barbara Meadowcroft

Painting : Autumn (Girl with Apple), Prudence Heward (1942)

<! _______________________________________________________________________________>




Copyright 1999 Concordia's Thursday Report.