! CONCORDIA'S THURSDAY REPORT ON-LINE> <! September 23rd, 99 Issue> <! Site Designede and Developed by: S. Mehrad B.Eng. For comments and problems contact: technical@mehrad.qc.ca> <! http://www.mehrad.qc.ca>



<! ________________________________________________________________________________>
Students enthralled with their "conference course"
by Sylvain-Jacques Desjardins
---
Part-time Anthropology student Monique Roy did an unusual thing this fall; she took a week's vacation from her job at a local call centre in order to take an elective course at Concordia in early September.
But this was no ordinary class. It was an intensive six-credit course that required students be present for some 52 hours of the fourth global Aging in Society conference, held at the Palais des Congrès from September 5 to 8.
As soon as he discovered the conference would be held in Montreal, Applied Human Sciences Chair Randy Swedburg said, "I immediately saw a great opportunity to turn it into a course that would be a valuable learning experience for students."
Some 1,800 people from 68 countries participated in the conference. Dozens of workshops by 400 speakers were given, on topics ranging from osteoporosis to consumer products for the elderly. With that many topics and specialists in one place, Swedburg said, "I was able to take my ability as a professor and expand it by 1,800 delegates, leading specialists in their fields and the authors of the very textbooks our students will read."
Since some delegates were also politicians, grassroots activists and senior citizens, students also had an opportunity to mix and mingle with people they don't normally meet at university. That, Swedburg said, "was perhaps one of the most impressive things for students."
Eighty-eight students took the course, 25 per cent of whom were not in Applied Human Sciences programs. They were required to be at the conference from 8 a.m. to 8 p.m. every day, and attend the lectures of their choice.
Since the class was so big, they attended a wide variety of workshops. That benefited the class, because they met for four additional sessions to give mini-conferences of their own and poster presentations on subjects that interested them.
Another academic requirement for the course required students keep a diary and critically evaluate everything they saw and heard during their experience. "I wanted to know how the conference affected them," Swedburg said. "I wanted students to be introspective, and examine their own attitudes and values towards aging. That was more challenging than taking notes in class."
To obtain extra grades for the course, students were given the option of writing a 10-to-15-page paper on a conference subject of their choice.
Students who had conflicting class schedules were free to go on-campus for courses and return to the Palais afterwards, but most didn't want to leave.
Fourth-year Economics student Shawn Gaisford said the conference was a more valuable learning experience than attending his first week of classes. "What do you learn in the first week of classes, anyway?," he asked rhetorically. The conference wasn't as exhausting as it seemed. "The time went by so fast." He plans to write an economically focused, extra-credit term paper on RRSPs, pension and retirement funds
For Women's Studies student Sabrina Sinani, who works nights at Cheers bar, attending the conference meant short, nearly sleepless nights. But it was worth it, she said, "since the conference was really hands-on, and I got to talk to so many people."
Obtaining six credits over such a short period was also attractive, she added, "and this course has no exams."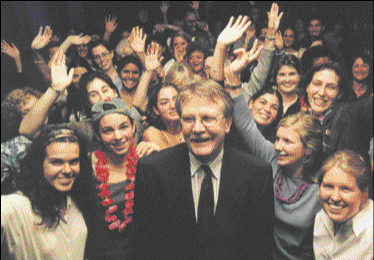 Professor Randy Swedburg, surrounded by his happy students.


<! _______________________________________________________________________________>




Copyright 1999 Concordia's Thursday Report.