! THURSDAY REPORT ON-LINE><! 22/10/1998 Issue><! By: S. Mehrad B.Eng. For comments and problems contact: technical@mehrad.qc.ca> <! http://www.mehrad.qc.ca>
by Heidi Klaschka
---
As Concordia's Hazardous Material Coordinator and Radiation Safety Officer, Nabil Bissada supervises the disposal of all dangerous waste on campus. What is hazardous waste? Well, anything from photocopier toner to chemicals in the science departments.
Bissada collected 11, 692 kilos of hazardous waste at the University last year. That's up from a mere 2,000 kilos 10 years ago. The figure keeps climbing, as staff and students become educated about how to dispose of waste properly. No more flushing chemicals down the potty!
The 13th floor of the Henry F. Hall Building will soon be a mecca for waste storage. At the moment, chemical, biological and radioactive materials are all stored in separate locations.
"Bringing them all together on one floor will be much safer," explained Bissada, poring over the design plans for the new facility. Indeed, Chemistry undergrads now have hazardous waste material close to their experiments -- in cabinets right in the labs. The elevator doesn't even stop at the 13th floor -- it's "restricted access."
The announcement of the new facility is just in time to celebrate Health and Safety Week throughout the province, October 18 to 24.
Bissada began asking for a better and safer waste location five years ago. He claims the new facility wouldn't have been made possible without the support of Charles Emond, Vice-Rector, Services, at Concordia.
Work will begin on the new facility in March, and it should be operational by September 1999.
What happens to the waste when the 13th floor gets full? An outside company is summoned to pack it up and take it to approved waste treatment facilities in three provinces.
Bissada believes Concordia has accomplished great feats in hazardous materials management in the past 10 years. "The new facility is the fourth part of a positive trend," he explained.
The first stage came in 1996, when the University disposed of all transformers containing PCBs. Concordia is now the only university in Quebec that is 100 per cent PCB-free.
Second, all of the underground oil tanks were safely disposed of years ahead of government stipulations. Concordia is now heated by natural gas.
Third, any air-conditioning systems with ozone-depleting substances such as CFCs were replaced in the Hall Building with environmentally friendly systems.
Concordia's hiring of Bissada, a professional chemist, coincided with a 1988 government regulation (WHMIS) stating all employers must inform employees of hazards and hazardous material in their workplace, and instruct them on how to work safely.
More than 2,000 Concordia employees, from professors to maintenance staff, have since attended one of Bissada's safety seminars.
The courses are designed to teach employees everything they need to know to make their work environment safe. Staff learn how to recognize hazards, protect themselves, dispose of waste, manage spills and many other relevant safety tips.
Refresher seminars are a must every three years. (Hint: There's always a question about recognizing hazard symbols on the test!)
Students wishing to ask general safety questions -- for example, about fire prevention or air quality regulations -- may e-mail hazard@alcor.concordia.ca
Asked about Homer Simpson's pitiful nuclear waste management skills, Bissada smiled broadly and declined comment.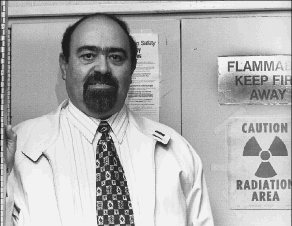 <! ________________________________________________________________________________>