! THURSDAY REPORT ON-LINE><! 22/10/1998 Issue><! By: S. Mehrad B.Eng. For comments and problems contact: technical@mehrad.qc.ca> <! http://www.mehrad.qc.ca>
by Derek Cassoff
---
You'll have to forgive Ammar Awad for not getting too excited before each of his team's soccer matches. It's not that the newest member of Concordia's men's soccer team doesn't care about the fortunes of his side, but Awad is used to playing in front of bigger crowds than the 200 or so faithful who attend university soccer games in Quebec.
A member of Syria's national soccer program for 12 seasons, Awad has performed before audiences of more than 100,000, with his nation's sporting pride often depending on his every kick.
"Here in Canada, you play hockey, but in my country, everybody plays soccer. It's the biggest sport," said the 29-year-old midfielder, who was born in the Syrian port city of Latakia.
When Awad came to Canada with his wife five months ago, it wasn't for the soccer. But once he enrolled at Concordia as an independent student, he figured that he might as well try out for the University's varsity team.
"People tell me that I could play for a professional team like the Montreal Impact, but now I just want to relax, to play for fun," said Awad. A dentist in his native country, he is taking courses at Concordia in English and computers.
Impressing the soccer team's coaches was not a problem for Awad, who says he was just about born with a soccer ball at his feet.
At 17, he was drafted to play on Syria's national junior team, which finished fifth at the Junior World Cup in 1991.
He represented his country at three Asian championships and three Arab nation tournaments, and played on the Syrian side that just missed qualifying for a spot at last summer's World Cup in France. He also spent three seasons playing with a club team in France -- one of the first two Syrians to play professionally in Europe.
Stingers head coach Vladimir Pavlicik, looking to win his first provincial title since 1993, could not believe his luck when a player of Awad's stature showed up at his door looking for an opportunity to play. He has since seen Awad pass along his experience and soccer know-how to teammates who are not as well-schooled in the sport's finer details.
"It's nice to have somebody around with his skill level and his enjoyment of the game," Pavlicik said. "A player of Ammar's calibre makes the other players on the
team look better and play more effectively."
Pavlicik says he doesn't worry about Awad stealing the spotlight -- or the ball, for that matter -- from teammates. Awad is experienced enough to understand that soccer is a team game, won or lost on a squad's overall performance. And passing the ball to teammates happens to be Awad's forte, anyway.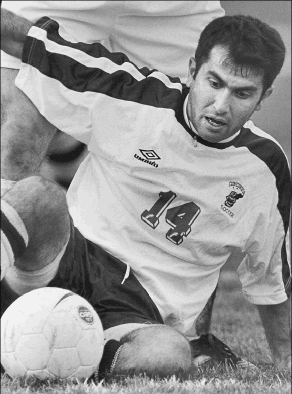 "I'm not here to show anybody how good I am," Awad said. "I just want to help the team win games."
While players with Awad's talent rarely land in Concordia's backyard, Pavlicik says Concordia's soccer teams tend to attract a fair share of ethnic players, a mix of second-generation Montrealers and visiting students from Europe and Asia.
"We're very representative of the student body at Concordia," he said. "Soccer is an international game,
and this team is an international community."
<! ________________________________________________________________________________>